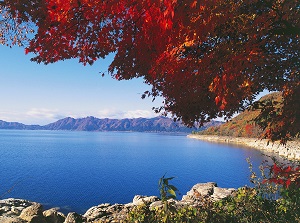 Lake Tazawa
Photo by Akita Prefecture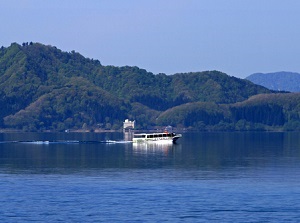 A pleasure boat of Lake Tazawa
Photo by Akita Prefecture
Lake Tazawa ("Tazawa-ko" in Japanese) is inland located about 50 km just east of Akita city.
It is nearly round, and is about 6 km in diameter.
The maximum depth is 423 meters, so this is the deepest lake in Japan.
By the way, this lake is located at the level of 249 meters, therefore the bottom of the lake is really 174 meters under sea level!
Originally, the clearity of this lake was very high.
But, strongly acidic water had been flown from Tamagawa hot spring since 1940 for agriculture promotion and power plant construction.
As a result, the water in Lake Tazawa had acidified rapidly, then most fish in the lake became extinct.
Since 1972, the action for neutralization has been taken, but the water is still acid (about pH 5).
Main town of this lake is on the east coast, because the main road from JR Tazawako station comes to this coast.
The pleasure boat leaves from this coast.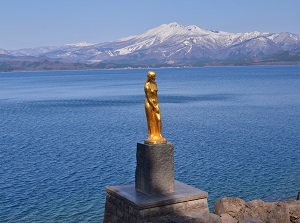 Statue of Tatsuko
Photo by Akita Prefecture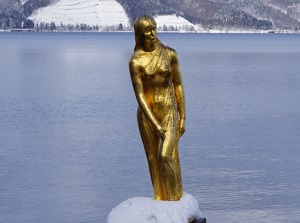 Statue of Tatsuko
This lake has a legend.
Once upon a time, Tatsuko, a very beautiful girl, was living by this lake.
One day, she noticed her beauty herself, then she prayed to a god for keeping her looks every day.
The god told her to drink the water of a spring in a mountain, then she drank the water.
But she had become a dragon.
She began to live in Lake Tazawa regretfully.
There is Statue of Tatsuko on the lakeside of the west coast.
It is a small statue, but it is the symbol of Lake Tazawa.
On the lakeside of the north coast, there is Gozanoishi Shrine (御座石神社)
It is the small shrine enshring Tatsuko, and it is said it was established in 1598.
In 1650, when the lord of Akita area visit Lake Tazawa, he took a rest here.
He sat on a stone, so the name of the shrine has such meaning.
If you worship this shrine, it is said that you will become beautiful and get eternal life following the hope of Tatsuko.
And it is regarded as the god of marriage.
How to get here
By Akita Shinkansen, get off at Tazawa-ko station.
From here, about 11 minutes by route bus.
Hotels around Lake Tazawa
Other Tourist Attractions in Akita Prefecture