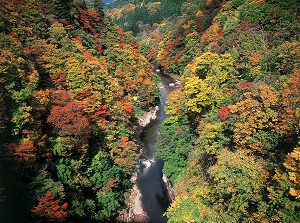 Oyasukyo
Photo by Akita Prefecture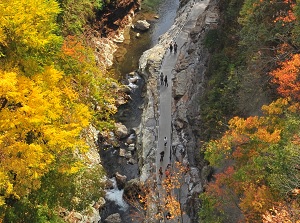 Walking trail of Oyasukyo
Photo by Akita Prefecture
Oyasukyo is an deep and narrow gorge.
It is located about 23 km southeast of the center of Yuzawa city.
The gorge is in the upper reaches of Minase River.
The depth of the gorge is over 50 meters, and the width is only dozens of meters.
And there are small waterfalls from the cliffs at some points.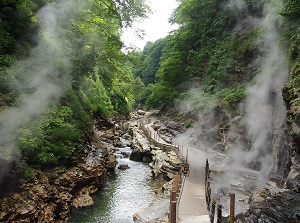 Daifuntou in Oyasukyo
Photo by Akita Prefecture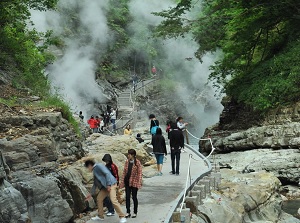 Tourists around Daifuntou
Photo by Akita Prefecture
The main attraction of this gorge is Daifuntou (大噴湯).
Hot water of 98 degrees celsius is gushing from many gaps of the rocks at the bottom of the gorge.
Therefore, the steam are rising up from the high-temperature water around the gorge.
Because there is a walking trail through Daifuntou, you can see the power of geothermal energy.
It is also famous for its beautiful autumn leaves.
In the middle of winter, big icicles are formed in the gorge.
The icicles are called "Shigakko" in this area, and Shigakko Festival is held in this gorge in early February.
A national road runs on the cliffs along the gorge, and there are some hotels and ryokans.
It is the town of Oyasukyo Onsen (小安峡温泉).
In addition, Inaniwa Udon is served in the restaurants in this area.
Udon is one of common Japanese noodles, and Inaniwa Udon is thinner and more elastic than general udon.
This udon is produced in Inaniwa town between this gorge and the center of Yuzawa city, and is a specialty of Akita Prefecture.
How to get here
By Akita Shinkansen, get off at Oomagari station.
Then, transfer to the train on JR Oou Line.
By local train, about 45 to 50 minutes to Yuzawa.
Then, about 55 minutes from Yuzawa station to the gorge by route bus.
Other Tourist Attractions in Akita Prefecture