Tamagawa hot spring [
玉川温泉

]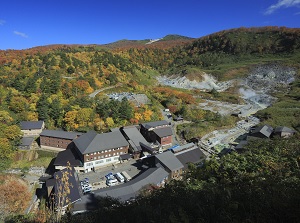 Tamagawa Onsen
Photo by Akita Prefecture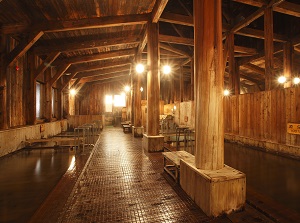 A bathroom in Tamagawa Onsen
Photo by Akita Prefecture
Tamagawa hot spring ("Tamagawa Onsen" in Japanese) is located in a valley about 12 km west of the peak of Hachimantai.
It is also located about 30 km north of Lake Tazawa.
There is a lodging facility.
The water of this hot spring is highly-acid (pH 1.1) and amount of gushing hot water is the most in Japan.
The water contains mainly hydrochloric acid, additionally a tiny amount of radon, a kind of radioactive substances.
It is said that an edge of knife is desolved in this water overnight.
Of course, the air around this hot spring also contains acid.
So no television set, air-conditioner and refrigerator are put in most guest rooms, and it has no lavatory, too.
Additionally although the accommodation is on a slope, no escalator and no elevator are set up.
This hot spring has such irritating water, so here is not a resort but a therapeutic bath.
It has been said that this hot spring cures the incurable disease or cancer.
Of course, it is medically uncertain.
But it is also true that a lot of desperate sick person have visited here and many of them have felt better.
The way to take a bath is that bathing for 15-20 minutes is repeated three or four times a day.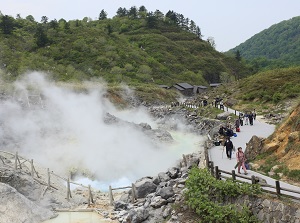 Walking trail in Tamagawa Onsen
Photo by Akita Prefecture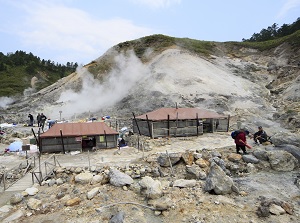 Bedrock bath in Tamagawa Onsen
Photo by Akita Prefecture
Instead of bathing in the bathtub, we can have a "bedrock bath".
A mat is spread on a warm rock, then we lie down on it.
We sweat a lot, so waste material is passed out of the body.
In 1998, Shin-Tamagawa hot spring hotel was opened for tourist near original Tamagawa hot spring.
This is the same as a general hotel.
The water of the bath is milder than original hot spring.
Around here, "hokutolite" is yielded.
It is a kind of rare mineral, and is a barite containing very small amount of radon or radium.
This is yielded only at this area and Beitou hot spting in Taiwan in the world.
This is designated as a natural treasure, so you must not pick it.
How to get here
From Tazawa-ko station of Akita Shinkansen, 1 hour and 15 minutes to Shin-Tamagawa hot spring, 1 hour and 22 minutes to Tamagawa hot spring by route bus.
Or, From Akita and Aomori to Odate, get on the limited express on JR Oou Line.
It takes about 1 hour and 25 minutes from Akita, 1 hour and 10 minutes from Aomori.
From Odate, get on the local train on JR Hanawa Line. To Kazuno-Hanawa station, it takes about 55 minutes.
By route bus, from Kazuno-Hanawa station, 1 hour and 14 minutes to Tamagawa hot spring, 1 hour and 21 minutes to Shin Tamagawa hot spring.
Hotels around Senboku city
Other Tourist Attractions in Akita Prefecture