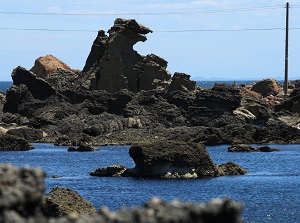 Godzilla Rock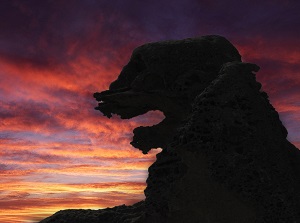 Godzilla Rock at sunset
Photo by Oganavi
Godzilla is a huge monster like dinosaur appearing in Japanese movie released in 1954.
The movie was a big hit all over the world.
Godzilla Rock ("Gojira-iwa" in Japanese) has the silhouette of Godzilla.
The rock is located about 9 km west of Oga station.
It is on the rocky coast of Cape Shiosezaki in the southwest part of Oga Peninsula.
The rock is located at the middle point between the road and a lighthouse, and the distance is about 100 meters from the road.
You can go to the rock on foot, but you must walk on rugged rocks.
And there are many rocks of unusual shape.
So, you may have a little trouble finding the rock.
The rock against the sunset has quite a lot of impact.
How to get here
By route bus, 33 minutes from Oga station to Monzen bus stop.
About 1 km walk from there.

Or, a share taxi visiting some sightseeing spots is operated from JR Oga station.
It also goes to Monzen. (You need make a reservation.)
Other Tourist Attractions in Oga Peninsula