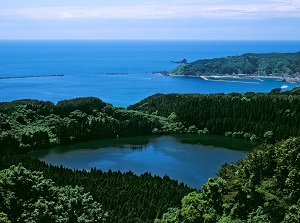 Scenery from Hachiboudai
Photo by Akita Prefecture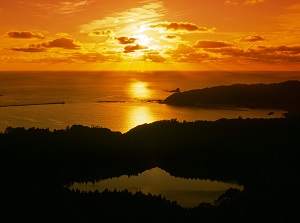 Sunset at Hachiboudai
Photo by Akita Prefecture
Hachiboudai is an observatory located about 2.5 km south of Oga hot spring resort.
There are two small lakes formed by volcanic eruption 60,000 to 80,000 years ago, and the observatory is located on the hill between the lakes.
The height is about 180 meters.
And there is Toga Bay about 1 km west of the observatory.
The bay was also formed by volcanic eruption.
These geographical features are called "maar", but it is said that they are rare in the world.
From the observatory, we can see the scenery of round Toga Bay and the Sea of Japan.
Of course, we can enjoy a great view of a sunset.
Because the observatory is by a road, you can visit there easily.
By the way, "Hachiboudai" was named by Prince Takamatsu (1905-1987) who was the Emperor Showa's brother.
How to get here
There is no public transportation.
You can go to there by using a taxi or a rental car.
Hotels around Oga Peninsula
Other Tourist Attractions in Oga Peninsula