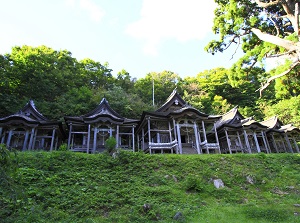 Goshado
Photo by Oganavi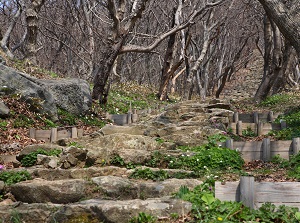 Stairs with 999 steps
Photo by Oganavi
Akagami Shrine ("Akagami Jinja" in Japanese) is a shrine located on the mountainside in the southwest part of Oga Peninsula.
It is located about 9 km west of Oga station.
Five shrines are built together in one place at about 180 meters above sea level.
It is called Goshado (五社堂).
There is a long stairs of 999 steps from the foot of the mountain to the place of the shrines.
It is said that a Buddhist temple was built by Priest En-nin in 860 and seven shrines were invited from Hiyoshi-taish Shrine in Shiga prefecture in 1216.
Because two of seven shrines had been abolished, current five shrines remain.
The buildings were rebuilted in 1710.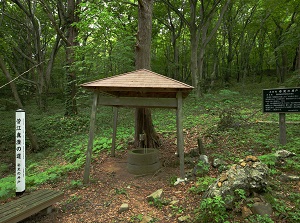 An old well near Goshado
Photo by Oganavi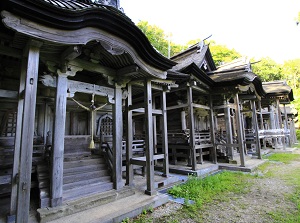 Goshado
Photo by Oganavi
There is a legend in this place.
In 72 A.D., Emperor Wu of Han (157 B.C. - 87 B.C., Ancient China) came from heaven.
He brought five bats, but they were the demons and attacked the village.
The people of the village were at a total loss, and offered a following suggestion.
"We offer you a girl every year.
In return, build the stairs with 1,000 steps by the crowing of the first cock.
If you can't do it, don't come to this village."
The demons were building the stairs.
When the 999th step was completed, the first cock crowed.
The demons gave up, then they left.
It is said that the crowing was the imitation by a demon bullied by the five demons.
Therefore, the stairs have 999 steps.
And it is said that the imitation demon became "Namahage".
How to get here
By route bus, 33 minutes from Oga station to Monzen bus stop.
About 800 meters walk (999 steps) from there to Goshado.

Or, a share taxi visiting some sightseeing spots is operated from JR Oga station.
It also goes to Monzen. (You need make a reservation.)
Hotels around Oga Peninsula
Other Tourist Attractions in Oga Peninsula