Tono Folktale Museum [
とおの物語の館

]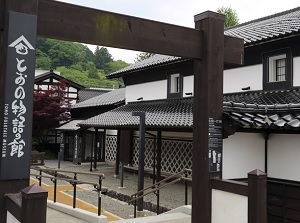 Tono Folktale Museum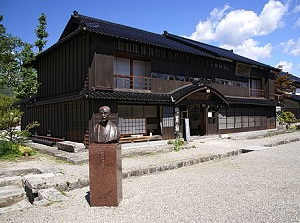 Kunio Yanagita Museum (Former Takazen Ryokan),
Photo by 663highland
[GFDL, CC-BY-SA-3.0 or CC BY 2.5]
from Wikimedia Commons
Tono Folktale Museum is located 350 meters south of JR Toono station.
In Japanese, the name is Tôno Monogatari no Yakata.
It is a museum about the folktales and stories in Toono.
The museum consists of some buildings.
Mukashibanashi Gura (昔話蔵) is a museum of the folk stories in Toono.
The stories are introduced with pictures and images.
The building of this uses an old Sake brewery.
Yanagita Kunio Museum (柳田國男展示館) is a museum about Yanagita Kunio.
Yanagita Kunio (1875-1962) is a Japanese folklore scholar, and he wrote a book named "Toono stories" that he compiled folktales and legends in Toono.
And that became the base of Japanese ethnology.
The buildings are "Takazen Ryokan" that he stayed for research in Toono and the his house relocated from Tokyo.
His life and works are interoduced in these buildings.
Toono-za (遠野座) is a theater using the old building of Sake brewery.
You can listen to some folk stories telled by a storyteller in Toono.
(Of course, it is telled in Japanese with Iwate dialect...)
And the traditional performance arts in Toono are performed.
In addition, there is a restaurant serving the local dishes in Toono.
How to get here
About 350 meters walk from JR Toono station.
Hotels around Hanamaki
Other Tourist Attractions in Toono city