Farm house of Chiba Family [
千葉家住宅

]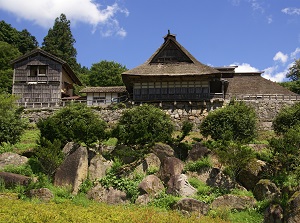 Farm house of Chiba Family (2007),
Photo by 663highland
[GFDL, CC-BY-SA-3.0 or CC BY 2.5]
from Wikimedia Commons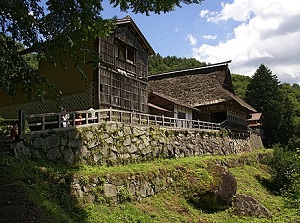 Wearhouse of Farm house of Chiba Family (2007),
Photo by 663highland
[GFDL, CC-BY-SA-3.0 or CC BY 2.5]
from Wikimedia Commons
Farm house of Chiba Family is an old farm house located 8 km west of Toono station.
It was build around the 1840s, and is a house of "Magariya" type.
Magariya is a farm house with L-shaped floor layout, and the specific shape has been seen only in Nanbu area (North part of Iwate Prefecture).
In the projecting part, a horse stable is set.
This house had been in good preservation, then it is a popular sightseeing spot in Toono.
This house is wholly under repair since 2016.
It will take about 10 years until the repair will finish (around 2026).
Unfortunately, you can't see this house now.
How to get here
This site is about 600 meters northwest from the parking of Tsuzuki-ishi.
Hotels around Hanamaki
Other Tourist Attractions in Toono city