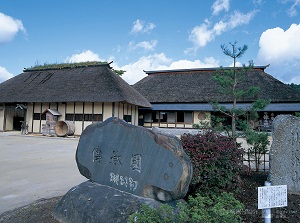 Denshoen
Photo by Iwate Prefecture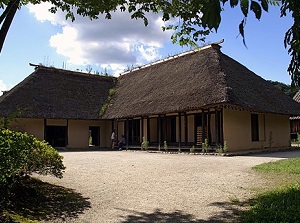 Former Kikuchi Residence,
Photo by 663highland
[GFDL, CC-BY-SA-3.0 or CC BY 2.5]
from Wikimedia Commons
Denshoen is an open-air museum, and is located about 5.5 km northeast of JR Toono station.
There are Jokenji temple and Kappa-buchi about 300 meters south of Denshoen.
The museum is constructed like a big traditional farm house of Toono in the site about 100 meters square.
The main and important building is Former Kikuchi Residence (菊地家住宅).
It is presumed that it was built around the 1750s, and it was reconstructed here for preservation as a cultural property.
It is a farm house with L-shaped floor layout.
The house of the type is called "Magariya" in Japanese.
In the projecting part, a horse stable is set.
This specific shape has been seen only in Nanbu area (North part of Iwate Prefecture).
Today, the number of Magariya is declining.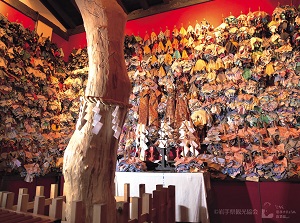 Inside of Oshira-do in Denshoen
Photo by Iwate Prefecture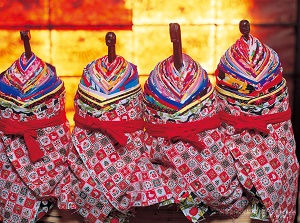 Oshira-sama
Photo by Iwate Prefecture
There is a small shrine Oshira-do (御蚕神堂) near the residence.
It enshrines "Oshira-sama" which is a female God of silkworm-raising, horse and agriculture.
The people in this area have believed Oshira-sama for the good production.
The sacred object is a small wooden stick with carved head of a girl or a horse, and colorful cloths are dressed on it.
Long ago, there was a girl in a farm house in this area.
She loved a horse in her house and had married the horse.
Her father got furious, then he killed the horse and cut the head off.
The girl knew about the death of the horse.
The girl jumped on the horse's head at once, and she ascended to Heaven with the horse.
She became Oshira-sama...
This is the legend about Oshira-sama.
Therefore, as the sacred object, the head of a girl or a horse is added.
In Oshira-do, a thousand of Oshira-sama are enshrined.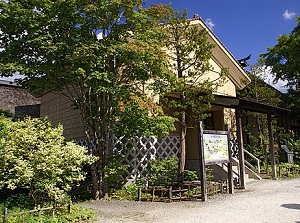 Sasaki Kizen Memorial Museum,
Photo by 663highland
[GFDL, CC-BY-SA-3.0 or CC BY 2.5]
from Wikimedia Commons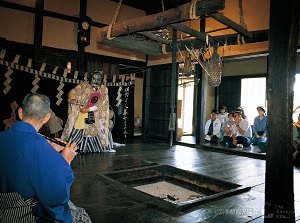 A performance of traditional events
Photo by Iwate Prefecture
There is Sasaki Kizen Memorial Museum (佐々木喜善記念館).
Kizen Sasaki (1886-1933, a scholar of folktale) showed many folk stories to Yanagita Kunio, then Yanagita wrote "Toono Stories".
In this museum, the materials related to his works are displayed.
In the other facility, we can see the performance of traditional events and the process for making the folkcrafts.
And there is a restaurant and a souvenir shop.
How to get here
Route buses are operated but they are operated every a few hours.
The closest stops are "Denshoen" or "Ashiaraigawa".
About 20-25 minutes from Toono station.
Rather, it is convenient to use a rental bicycle or car.
Hotels around Hanamaki
Other Tourist Attractions in Toono city