Unedori-sama shrine [
卯子酉様

]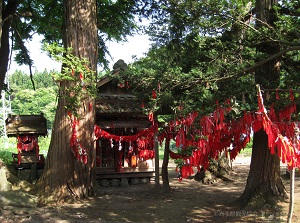 Unedori-sama
Photo by Iwate Prefecture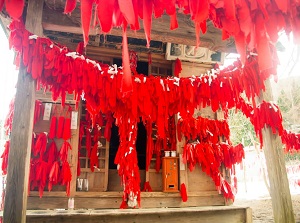 Shrine of Unedori-sama
Unedori-sama is a small shrine located 1.7 km west-southwest of Toono station.
(It is also called "Unetori-sama".)
There is only an unmanned shrine.
And a lot of red cloths are tied on a few ropes around the shrine.
The wish of each worshipper is written on the cloth.
It is said that you will get together with your lover if you can tie a red cloth with ONLY YOUR LEFT HAND.
The red cloth for you is sold at the shrine.
You offer 100 yen to the shrine, worship the shrine, pick up a red cloth, write your wish on the cloth, then tie it on the rope.
(You shouldn't use the red cloth without your offer. Heaven will punish you for it!)
How to get here
It is located about 300 meters from the bus office around Toono area.
So, all buses start from this office and visit Toono station.
You catch the bus for "Honsha-Eigyosho" (the bus office).
It takes 6 minutes.
Then, walk 300 meters.
Hotels around Hanamaki
Other Tourist Attractions in Toono city