Lake Tofutsu & Koshimizu Flower Garden [
濤沸湖、小清水原生花園

]
Lake Tofutsu is a lake located about 12 km southeast of central Abashiri.
The first vowel "o" in the word is pronounced long as "Tôfutsu".
It is about 8 km from east to west and about 2 km from north to south.
This lake has been formed by being cut off from the sea by a sand bank, so it is a salt lake.
Many birds come flying here, and many wild flowers bloom in summer around this lake.
Therefore it was inscribed as a registered wetlands under the Ramsar Convention in 2005.
On the western side of the lake, there is Swan Park (白鳥公園, "Hakucho-koen" in Japanese).
It has an observation house for bird-watching and opens from the middle of October to the middle of May.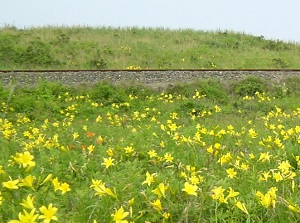 Genseikaen & the rail of Senmou Line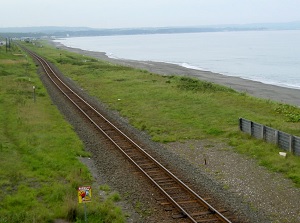 Okhotsk Sea around Kitahama station
On the sand bank on the northern side, grass fields are spread.
And, wild flowers bloom there from June to August.
The fields are called Koshimizu Genseikaen (小清水原生花園).
"Koshimizu" is the name of the town, so the field is often called simply as "Genseikaen".
Along the sand bank, JR Senmou Line (railway) and National Route 244 (road) run.
In this area, there are two unmanned stations of JR Senmou Line.
Kitahama station is known for the closest station to Okhotsk Sea.
(The distance between the station and the sea is about 20 meters.)
Genseikaen station is the closest station to Koshimizu Genseikaen, but it is open only from May to October.
How to get here
By route bus toward Koshimizu, 28 to 33 minutes from Abashiri station.
It is operated about every 2 hours.
Or, by train on JR Senmou Line, it takes 16 to 21 minutes from Abashiri. Get off at Kitahama or Genseikaen station.
But it is operated only a few times in the daytime.
Hotels in Abashiri
Other Tourist Attractions in Abashiri