Meruhen no Oka is a gently‐sloping hill with idyllic and beautiful scenery.
It is located about 13 km south-southwest of the center of Abashiri city, and is located about 5 km north-northeast of Memanbetsu Airport.
There is Lake Abashiri about 1 km west of the hill.
"Meruhen" is originally a German word "Märchen" meaning "fairy tale".
So, the meaning is "Hill of fairy tale".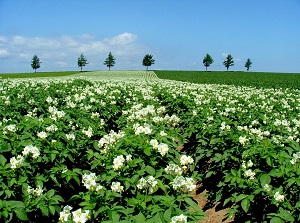 Flowers of potato
Photo by Abashiri Tourism Association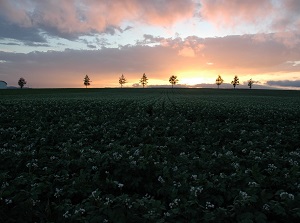 Sunset at Meruhen no Oka
Photo by Abashiri Tourism Association
The hill has very gentle ups and downs, and there are the fields of potato and wheat.
And several larch trees stand in a line on the open field.
The US-Japan joint movie "Dreams" directed by Akira Kurosawa (1910-1998), a Japanese famous movie director, was released in 1990.
Because he used this scenery in the movie, this spot has been popular.
How to get here
By local train of JR Sekihoku Line, about 17 minutes from Abashiri to Memanbetsu.
From Memanbetsu station, about 2 km walk.
The train is operated every 1.5 to 2 hours.
Or, by route bus, about 25 minutes from JR Abashiri station.
Get off at Showa-Daini stop.
It is operated every 2 to 3 hours.
Hotels in Abashiri
Other Tourist Attractions in Abashiri