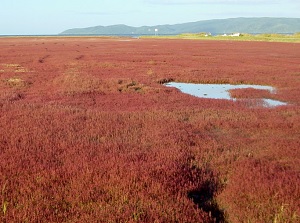 Field of glasswort in Lake Notoro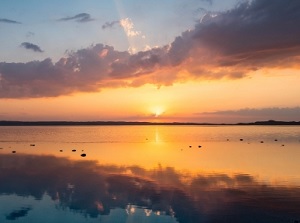 Sunset at Lake Notoro
Lake Notoro is an oval lake located to the west of central Abashiri.
It is about 7 km from east to west and about 10 km from north to south.
And it is connected with the Okhotsk Sea at the north end of the lake, so it is a salt lake.
The main attraction of this lake is the largest glasswort community in Japan.
Glasswort is a kind of grass growing in salt marshes.
The color of the grass becomes red in autumn.
So it is called "sangosou" meaning "coral grass" in Japanese.
It grows only in some lakes in Japan.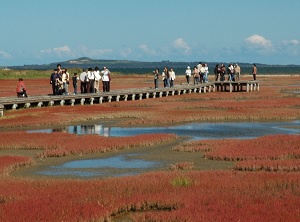 A boardwalk in the field of glasswort
Photo by Abashiri Tourism Association
The glasswort community is on the shore of the lake around Ubaranai (卯原内) district.
It is at the south end of the lake, and is located about 12 km west of the central area of Abashiri city.
From early September to early October, the grasses get bright red, then the lakeside is covered with them like red carpet.
The total field space of the glasswort is about 9 hectares.
And some boardwalks are set up for visitor.
But because the lake connects to the sea, the half part of the grass sinks under the water at high tide.
When you visit here, you should check the time of high tide around Abashiri.
How to get here
By route bus, about 18 minutes from JR Abashiri station.
But it is operated only in the morning, early afternoon and before evening.
Hotels in Abashiri
Other Tourist Attractions in Abashiri