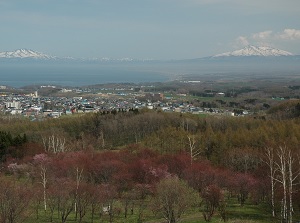 View of Shiretoko peninsula from Mt.Tento
Photo by Abashiri Tourism Association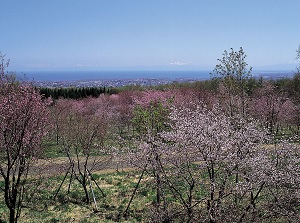 Cherry blossoms on Mt.Tento
Photo by Abashiri Tourism Association
Mount Tento is a mountain to the southwest of the central area of Abashiri city.
In Japanese, it is called as "Tentozan".
It is 207 meters high and is like a hill.
The top is about 4 km from the town, and there is the observatory.
The observatory offers a view of Okhotsk Sea, the lakes around Abashiri city, and Shiretoko Peninsula.
There is Tentozan Sakura Park around the top of the mountain.
There are about 1,000 cherry trees and it is a cherry blossom viewing spot of Abashiri.
And there are Okhotsk Ryuhyo Museum and Hokkaido Museum of Northern Peoples around the top.
In addition, Abashiri Prison Museum is on the west side of the mountain.
How to get here
By route bus, about 20 minutes from JR Abashiri station.
Other Tourist Attractions in Abashiri