Cape Notoro is a cape facing Okhotsk Sea and is located about 10 km north of the center of Abashiri city.
In Japanese, it is called "Notoro Misaki".
It is surrounded with steep cliff about 60 meters high.
But there is flat and wide grassland on the cliff.
Near the tip of the cape, there is a lighthouse of 21 meters in height.
And the whole area of the cape is a pasture.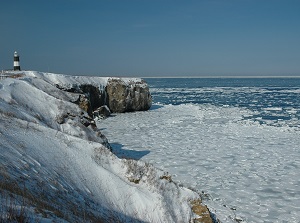 Ryuhyo around Cape Notoro
Photo by Abashiri Tourism Association
From May to October, cows and horses are put out to pasture.
And from late January to the middle of March, the sea around the cape is filled with ryuhyo (drift ice).
The scenery in such season on the cape is very nice.
How to get here
There is no public transportation.
Taxi or rental car is available.
Other Tourist Attractions in Abashiri