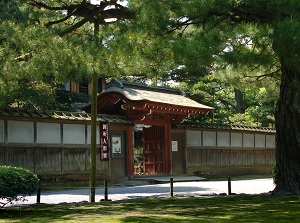 Gate of Seisonkaku on Kanrokuen side
Photo by Kanazawa City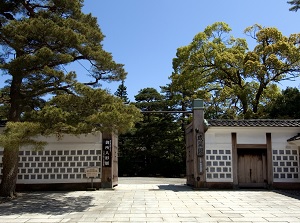 Main gate of Seisonkaku
Photo by Kanazawa City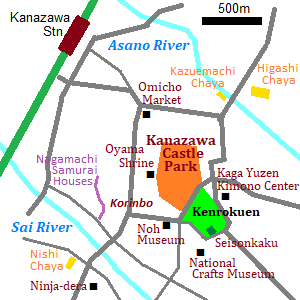 Seisonkaku is a villa of Kaga Clan.
It is in the southeast part of the site of Kenrokuen garden.
The villa was built by Maeda Nariyasu, the 13th lord of Kaga Clan, in 1863.
The villa was for his mother Takako (1787-1870), and she spent her later years in this villa.
This villa has the elegant spaces for her.
On the shoji (Japanese paper sliding-door), various pretty pictures are drawn.
On the wall, papers are coated and various patters are drawn with gold and mica powder.
The long velanda of her living room has no pillar to see the beautiful garden without cutting off the view.
After her death in 1870, this villa was used as the accommodation for the Emperor's family.
It is designated as a nationally important cultural property.

Villa of Seisonkaku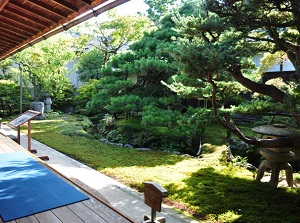 Garden in Seisonkaku
Photo by Railstation.net
Now the villa is a museum, and we can tour the inside.
It displays many Takako's collections such as traditional Japanese dolls and beautiful kimonos.
Unfortunately, taking photos is not permitted in this villa.
How to get here
By route bus (Kanazawa Loop Bus [Right Loop] or Kenrokuen Shuttle), about 16 to 20 minutes from Kanazawa station to Kenrokuen, Kanazawa Castle Park stop.
Other Tourist Attractions in Kanazawa