Kanazawa Noh Museum [
金沢能楽美術館

]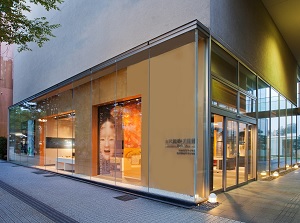 Kanazawa Noh Museum
Photo by Kanazawa City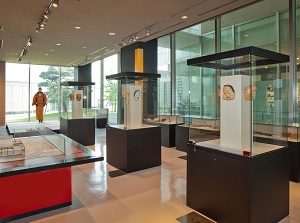 Inside of Kanazawa Noh Museum
Photo by Kanazawa City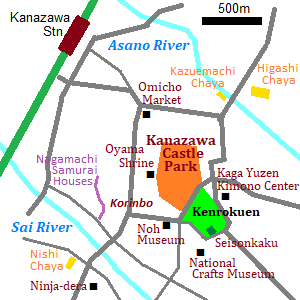 Kanazawa Noh Museum is a museum about "Noh" (Japanese traditional masked dance-drama).
It is located to the west of Kenrokuen garden.
It is thought that some stage performances from China around the 7th century were the origin of Noh.
And Noh had developed since the 14th century.
Main players are only a leading role called "shite" and a few supporting roles called "waki".
Shite plays with wearing a Noh mask which is carved in wood and is expressionless.
The movement of players is very slow, and the player dances in sliding steps.
At the back of stage, there are some music players.
They play "fue" like a flute and "taiko" and "tsuzumi" like drum.
And there are also some singers on a side of the stage.
People in Kanazawa had enjoyed watching Noh as common events in Edo Period (the 17th to 19th centuries).
Noh had been played on the stage in shrines and temples.
Kanazawa is still main city of Noh in Japan.
This museum was opened as Japan's first museum of Noh in 2006.
We can see the model of stage with moving image.
And stage costumes, masks and some other devices are displayed.
How to get here
By route bus (Kanazawa Loop Bus or Kenrokuen Shuttle), about 13 to 20 minutes from Kanazawa station to Hirosaka, 21th century museum stop.
Hotels in Kanazawa
Other Tourist Attractions in Kanazawa