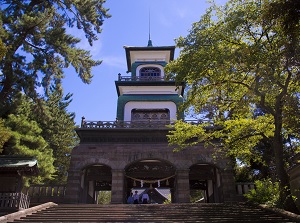 Main gate of Oyama Shrine
Photo by Kanazawa City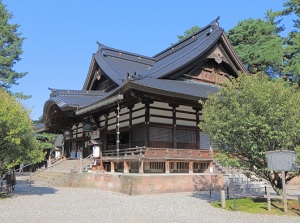 Main shrine of Oyama Shrine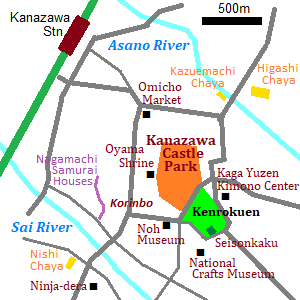 Oyama Shrine ("Oyama Jinja" in Japanese) is a Shinto shrine in Kanazawa city.
It is located just to the west of Kanazawa Castle Park.
This shrine was built to enshrine Maeda Toshiie (1539-1599, the founder of Kaga Clan) in 1873.
And, a unique main gate for this traditional Japanese Shinto shrine was built in 1875.
This gate was designed by Japanese carpenters in imitation of western-style architectures which were increasing in Tokyo or Yokohama at that time.
It has three stories, and the design is mixed with western-style and Chinese-style.
The third-story windows have some stained glasses.
And this building has a lightning rod which was set up by a Dutch doctor, and it is said that the lightning rod is the oldest in Japan.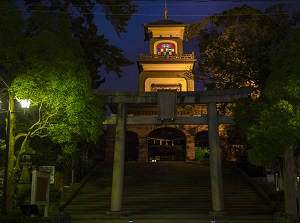 Main gate with stained glasses in the evening
Photo by Kanazawa City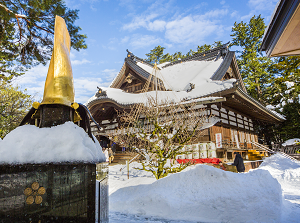 Oyama Shrine in winter
Photo by Kanazawa City
When this gate completed, it was unfavorably received.
But it has been designated as a national important cultural property in 1935.
How to get here
By route bus (Kanazawa Loop Bus [Left Loop] or Kenrokuen Shuttle), about 7 minutes from Kanazawa station to Oyama Jinja stop.
Hotels in Kanazawa
Other Tourist Attractions in Kanazawa