Kaga Yuzen Kimono Center [
加賀友禅会館

]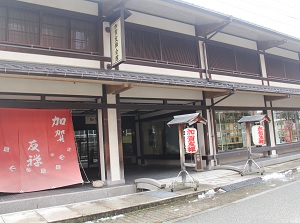 Kaga Yuzen Kimono Center
Photo by Kanazawa City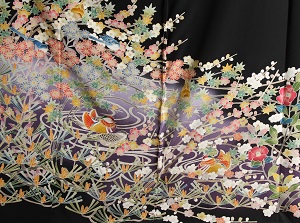 Kaga Yuzen
Photo by Kanazawa City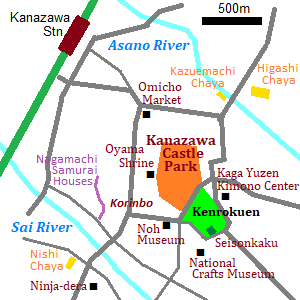 Kaga Yuzen Kimono Center ("Kaga Yuzen Kaikan" in Japanese) is a facility introducing Kaga Yuzen as a traditional industry in Kanazawa.
It is located just to the northeast of Kenrokuen garden.
Kaga Yuzen is a colorful-dyed silk fabric for Kimono, and has been created in Kaga area since the early 18th century.
Famous Kyo-Yuzen in Kyoto was developed in the late 17th century by Miyazaki Yuzensai.
He was invited to Kanazawa in 1712, then he applied his technique to the traditional Kaga dyeing in consideration of its climate.
The picture of Kyo-Yuzen is mostly pattern, but picture of Kaga-Yuzen is like Japanese painting.
Therefore, it is more gorgeous and colorful than Kyo-Yuzen.
In this facility, various productions of Kaga Yuzen are displayed, and we can see the demonstration of the production.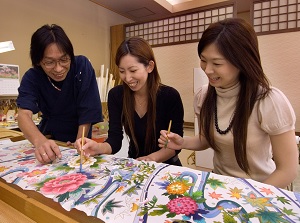 Experience of Yuzen dyeing
Photo by Kanazawa City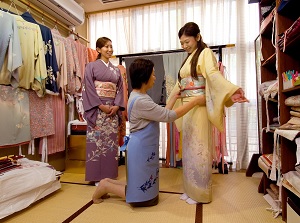 Wearing kimono of Kaga Yuzen
Photo by Kanazawa City
We can try Yuzen dyeing.
And we can try to wear the kimono of Kaga Yuzen.
It takes about 20 minutes to wear.
If you want, you can walk in Kanazawa for an hour or three hours with the kimono.
How to get here
By route bus (Kanazawa Loop Bus [Right Loop] or Kenrokuen Shuttle), about 16 to 20 minutes from Kanazawa station to Kenrokuen, Kanazawa Castle Park stop.
Other Tourist Attractions in Kanazawa