Kanazawa Castle Park [
金沢城公園

]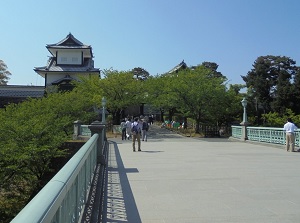 Kanazawa Castle Park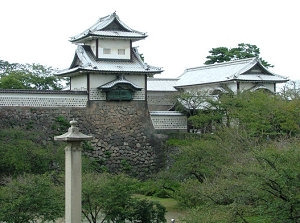 Ishikawa-mon of Kanazawa Castle Park
Photo by Railstation.net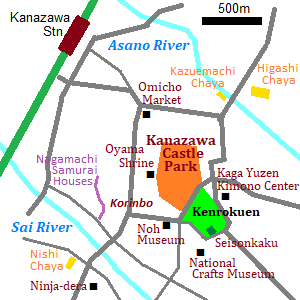 Kanazawa castle Park is a park that there is Kanazawa Castle literally.
It is located about 1.5 to 2.0 km southeast of JR Kanazawa station.
And there is Kenrokuen garden just to the southeast of the park.
In 1580, the original castle was built here.
And Maeda Toshiie became the lord of the castle in 1583.
He laid the foundation for the developement of Kaga area, and his posterity governed Kaga for generations.
In 1676, Maeda Tsunanori, the 5th lord, built Kenrokuen garden as an attached facility of the castle.
The main castle tower was destroyed by fire after lightning in 1602.
After that, it wasn't rebuilt.
Instead, a three-story building was built.
But most buildings were destroyed by fire in 1881.
Since that, this site was used by headquaters of Imperial Japanese Army until the end of the World War II (1945).
After that, Kanazawa University used this site from 1949 to 1995.
From 1996, Kanazawa city began to restructure this site as the historic park.
Then some buildings were restored in 2001.
The restoration work is continuing now.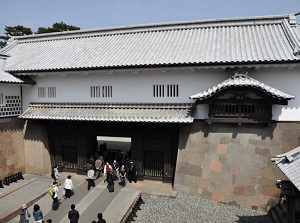 Ishikawa-mon
Photo by Railstation.net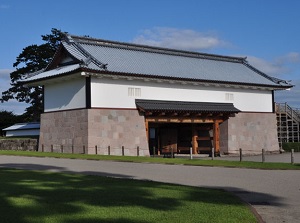 Kahoku-mon of Kanazawa Castle Park
Photo by Railstation.net
The site is about 500 meters from east to west and about 600 meters from north to south.
There is no fee to enter this park, but an entrance fee is required in order to visit a few buildings.
There were some moats around the site, but only a few sections remain.
On the west side of the park, there is Ishikawa-mon (石川門) gate.
It is the main gate and faces Kanrokuen.
It was built in around 1600, and is one of constructions in existence.
Most of the parts were repaired in the late 18th century.
After passing through Ishikawa-mon, you can enter the main site of the castle.
Several buildings are dotted in the site, and some of them were recently restored based on old drawings, documents and excavated articles.
There is Kahoku-mon (河北門) gate close to Ishikawa-mon.
It was an important gate.
The original gate was destroyed in 1759 and was rebuilt in 1772.
But it was demolished in the late 19th century.
And current gate was restored in 2010.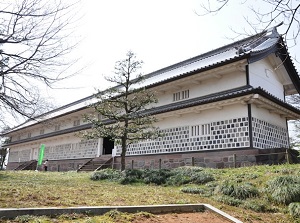 Sanjukken-nagaya
Photo by Railstation.net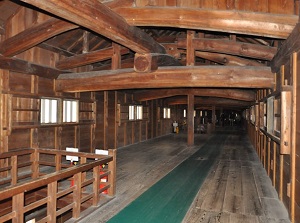 Kahoku-mon of Kanazawa Castle Park
Photo by Railstation.net
Sanjukken-nagaya (三十間長屋) is a long warehouse about 48 meters long and 5 meters wide.
It was rebuilt in 1858 after being burnt down in 1759.
It was used for storing preserved foods and weapons.
Gojukken-nagaya (五十間長屋) is longer warehouse than Sanjukken-nagaya and the length is about 100 meters.
Hishi-yagura (菱櫓) tower and Hashizume-mon (橋爪門) gate are connected at the both edges of Gojukken-nagaya.
These were restored in 2001, and you can enter the buildings for a fee.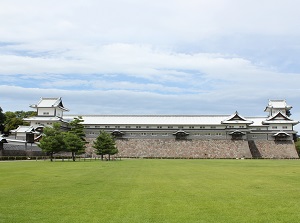 Gojukken-nagaya, Hishi-yagura (right),
and Hashizume-mon (left)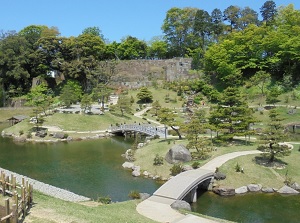 Gyokusen'in-maru Garden
There is a Japanese garden Gyokusen'in-maru Garden (玉泉院丸庭園) in the west part of the site.
It was built in 1634, but it was demolishe in the middle of the 19th century.
Then it was restored in 2013.
How to get here
By route bus (Kanazawa Loop Bus [Right Loop] or Kenrokuen Shuttle), about 16 to 20 minutes from Kanazawa station to Kenrokuen, Kanazawa Castke Park stop.
Hotels in Kanazawa
Other Tourist Attractions in Kanazawa