Takahata-fudo temple [
高幡不動

]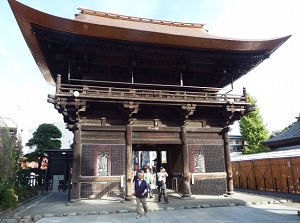 Niomon of Takahata-fudo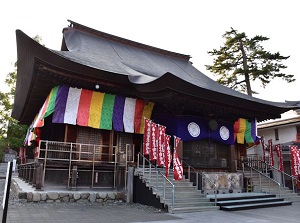 Fudodou in Takahata-fudo
Photo by Railstation.net
Takahata-fudo is a Buddhist temple of Shingon sect which is one of Japanese Buddhism.
It is located in Hino city about 30 km west of Shinjuku.
The formal name is Takahata-fudoson Kongoji (高幡不動尊金剛寺).
It is said that this temple was founded in the late 9th century by Priest En-nin according to the wish of Emperor Seiwa (850-881).
It enshrines the Fudo-myoo which is one of the Five Wisdom Kings in Buddhism.
Niomon (仁王門, Main gate) and Fudodou (不動堂, Main temple) were built in the 14th to 15th centuries, and many Buddhist statues housing in the buildings were made in the 10th to 15th centuries.
Most of them are designated as a nationally important cultural assets.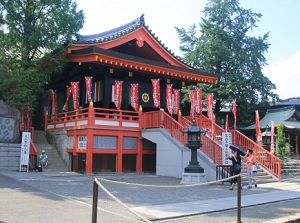 Okuden in Takahata-fudo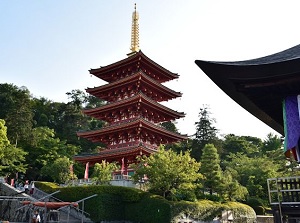 Five-story Pagoda in Takahata-fudo
Photo by Railstation.net
In the center of the precincts, there is Okuden (奥殿) building and many cultural assets are displayed.
Goju-no-tou (五重塔, Five-story Pagoda) is 45 meters tall and is a building made of reinforced concrete.
It was completed in 1980, and 16 carvings of relief expressing the life of Buddha are set inside the pagoda.
The inside is open only in April 28 in the annual festival of this temple.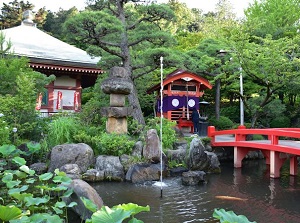 Bentendo in Takahata-fudo
Photo by Railstation.net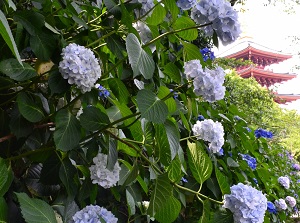 Hydrangea in Takahata-fudo
This temple is famous for a lot of hydrangea flowers.
In June, various events for the flower are held.
How to get here
To Takahata-fudo station, 30 to 35 minutes from Shinjuku by express for Keio-Hachioji or Takaosan-guchi of Keio Railway.
About 2 minutes walk from Takahata-fudo station.
Hotels around Shinjuku
Other Tourist Attractions in Tokyo Metropolis (Tama area)