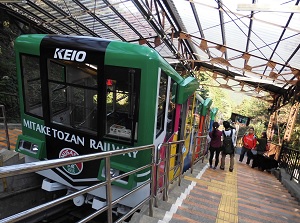 Cable car to Mount Mitake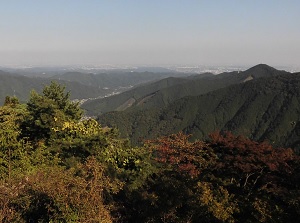 View from Mitake-daira
Mount Mitake is a mountain 929 meters high.
It is located near eastern end of Oume city about 50 km east of Central Tokyo.
The top of the mountain is on the south side of the valley flowing Tama River.
There is Musashi-Mitake shrine (武蔵御嶽神社) on the top.
It is said that this shrine was founded in 90 B.C.
So this mountain has been the subject of mountain worship from ancient times.
By cable car, we can go up to the mountainside at a height of 831 meters. (The area is called "Mitake-daira".)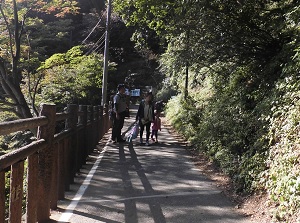 Approach from Mitake-daira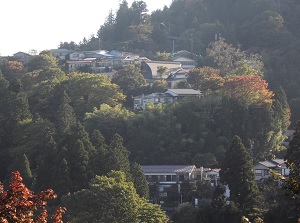 Shrine town of Mount Mitake
There is a hill near the station of cable car, and an observatory is on the top.
A lift is operated to the observatory.
From the station, the approach is set up to the shrine.
It passes around the foot of the hill.
After walking about 500 meters, there is the shrine town.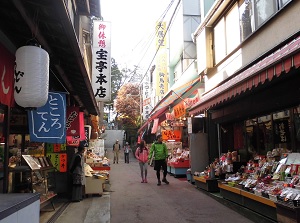 Shrine town along the approach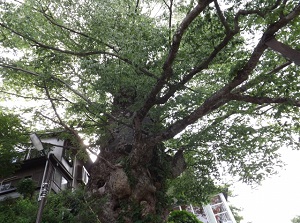 Jindai Keyaki
At the entrance, there is Mitake Visitor Center.
There are several souvenir shops and inns for worshippers (Shukubou) along the approach on the slope.
The length of the town is about 300 meters.
By the town, there is an old Japanese zelkova tree about 1,000 years old.
It is called Jindai Keyaki, and is designated as a national natural treasure.
You may be able to find Japanese giant flying squarrels around the tree.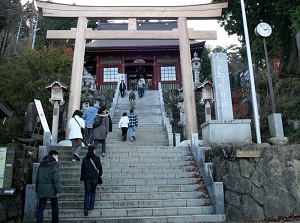 Entrance of long staircase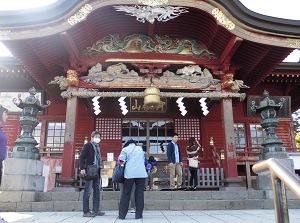 Musashi-Mitake shrine
Between the end of the town and the shrine on the top, there is a long staircase with 330 steps.
After climbing the stairs, you reach the shrine at last.
There is the top of Mount Mitake.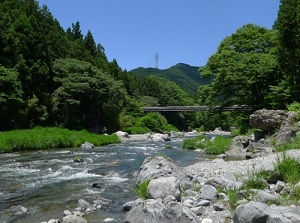 Mitake gorge in early summer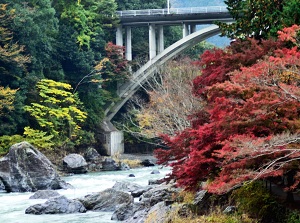 Mitake gorge in autumn
In addition, Tama River around the foot of the mountain forms a gorge named Mitake gorge.
Along the river, walking trails are set up, so we can enjoy seeing the limpid streams.
How to get here
Get on the train of JR Oume Line branching from Tachikawa of JR Chuo Line.
The rapid trains run from Tokyo to Oume.
It takes 1 hour and 15-35 minutes from Tokyo, 32-35 minutes from Tachikawa.
At Oume, change the local train to Okutama.
Then get off at Mitake station.
About 17-19 minutes from Oume.
By route bus from Mitake station to Cable-shita stop, about 10 minutes.
We can reach the station of the cable car.
Other Tourist Attractions in Tokyo Metropolis (Tama area)