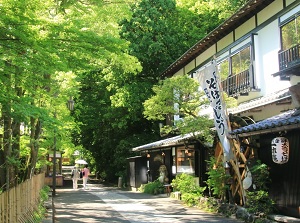 Approach to Jindaiji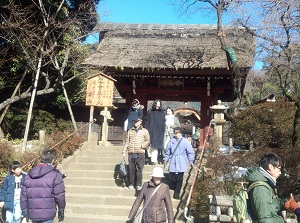 Main gate of Jindaiji
Jindaiji is a Buddhist temple of Tendai sect from one of Chinese Buddhism.
It is located about 2 km north of Chofu station on Keio Railway.
It is said that this temple was founded in 733 and converted to Tendai sect in 859.
So it is the second oldest temple in Tokyo Metroplis after Sensoji in Asakusa.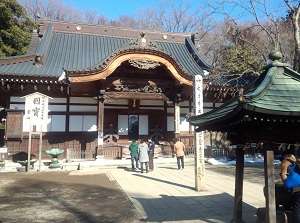 Main hall of Jindaiji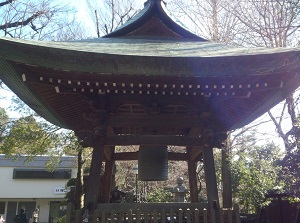 Bell tower in Jindaiji
Most current buildings were rebuilt in the early 20th century.
But the main gate, the oldest structure in this temple, was built in 1695.
A bronze Buddha statue created in the 7th century was found in this temple.
It is designated a national treasure, and is kept severely in Shakado building.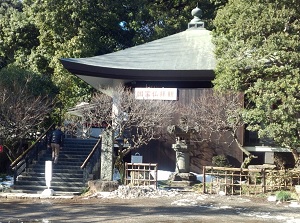 Shakado enshrining the national treasure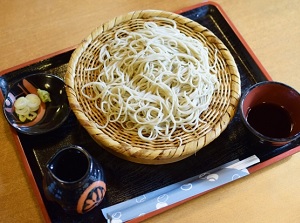 Jindaiji Soba
Along the approach, there are souvenir shops.
Especially we can find some soba (buckwheat) noodle restaurants.
In Edo Period (1603-1868), it was difficult to grow rice around this area, so buckwheat had been produced as the main grain.
Spring water comes out around this temple, therefore, tasty soba noodle has been made here.
In the early 18th century, the chief priest of Kan-eiji temple in Ueno liked this, and it is said that the reputation had spread throughout the country.
Now the noodle is known as Jindaiji Soba.
On March 3 and 4 every year, Jindaiji Daruma Fair is held.
Daruma is a popular lucky charm in the shape of a priest sitting in Zen meditation.
Every year, 100 thousand people visit the festival.
Jindai Botanical Garden (
深大植物公園

)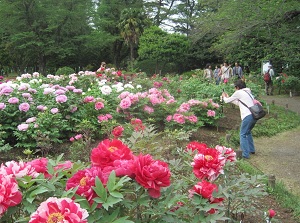 Jindai Botanical Garden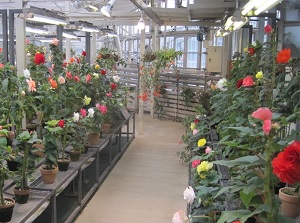 Roses in a glasshouse
Jindai Botanical Garden is a botanical garden to the north of Jindaiji temple.
Originally, here was the land of Jindaiji temple.
It was opened in 1961 as the botanical garden of Tokyo Metroplis.
It has an area of about 47 hectares, and about 4,500 varieties of trees and shrubs are planted.
Here is one of the major plum and cherry blossom-viewing spots.
And the rose garden has over 5,000 roses, then Rose Festival is held in spring and autumn every year.
How to get here
The route buses for Jindaiji lead to here from the following stations.
It takes 15-25 minutes.
Keio Railway : Chofu, Tsutsujigaoka (by express, about 15-18 minutes from Shinjuku)
JR Chuo Line : Kichijoji, Mitaka (by rapid train, about 14-18 minutes from Shinjuku)
Hotels around Chofu
Other Tourist Attractions in Tokyo Metropolis (Tama area)