Ghibli Museum [
三鷹の森ジブリ美術館

]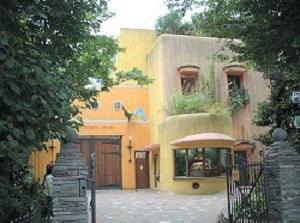 Entrance of Ghibli Museum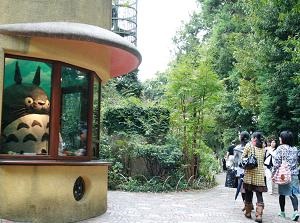 Totoro in Ghibli Museum
Ghibli Museum is a commercial museum featuring the Japanese anime works of Studio Ghibli.
The formal name is "Mitaka-no-mori Ghibli Museum".
It is located in Inokashira Park in Mitaka city about 12 km west of Shinjuku.
Studio Ghibli is a Japanese animation film studio, and it has created many excellent animation works before now.
The popular works are "Princess Mononoke" (1997), "Spirited Away" (2001), "Howl's Moving Castle" (2004), "Ponyo on the Cliff by the Sea"(2008) "The Secret World of Arrietty"(2010), etc.
The main character of this studio is a wonderful animal "Totoro" from "My Neibor Totoro" (1988).
This museum was founded in 2001 in cooperation with Mitaka city.
We can learn a principle of animation, a demonstration of production, and see the original drawing and the other materials of past works.
In the movie theater, we can enjoy seeing a short animation work for this museum (for about 15 minutes).
And the special exhibition about a particular work or author is held.
To enter this museum, we must buy the ticket in advance at the convenience store "LAWSON" in Japan.
There is no ticket office in this museum.
But you can buy it in your country.
Please look at the official website.
There are four times of entering.
They are 10:00, 12:00, 14:00 and 16:00.
There is no time limit in the museum.
Basically, it is closed on Tuesday.
There are a few closed periods for about 10 days in a year.
And it is closed for some days during Year-end and New Year holidays.
How to get here
Get off at Mitaka station on JR Chuo Line.
By rapid train, about 16 minutes from Shinjuku, about 33 minutes from Tokyo.
Then, by route bus, about 6 minutes from Mitaka station to Miraka-no-mori Ghibli Museum stop.
Or, on foot, about 20 minutes from Mitaka station. (About 1.2 km)
Hotels around Mitaka
Other Tourist Attractions in Tokyo Metropolis (Tama area)