Oshima is a small rocky island located 0.5 km southeast of Matsushima-kaigan station.
Some people call it "Ojima".
It is about 200 meters in length and 40 meters in width.
It is connected with the coast by a bridge.
In the 12th century, Priest Kenbutsu performed the ascetic practices for 12 years in this island.
There are many caves in the island.
These were made by the priest, and carved Buddha statues are put.
It is said that the number of cave was 108. (108 is the important number in Buddhism.)
But, only about 50 caves are found today.
And, we can find the carved Buddha statues on the wall of rock.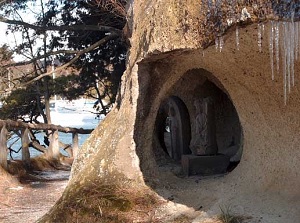 A cave in Oshima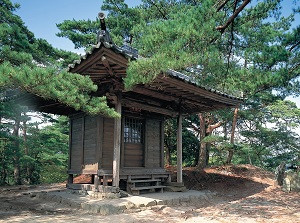 A small temple in Oshima
Photo by Miyagi Prefecture
Emperor Toba praised his practices and presented thousand seedlings of pine tree to him.
So this island ("shima" in Japanese) was covered with pine trees ("matsu" in Japanese).
For this reason, the name of this area became "Matsushima".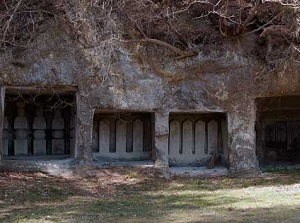 Carvings on the wall of rock in Oshima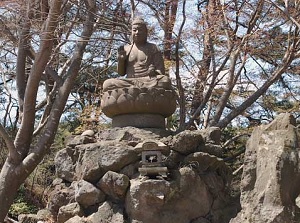 Buddha statue of stone in Oshima
We can visit this island crossing Togetsukyo bridge (渡月橋).
This bridge is the way to the sacred place, so it is called as the bridge to end bad relationships.
This bridge was destroyed by the tsunami after the Great East Japan Earthquake in 2011, but the current bridge was reconstructed in 2013.
Because of a sacred island, there is no shop and house.
How to get here
About 500 meters walk from JR Matsushima-kaigan station.
Hotels in Matsushima
Other Tourist Attractions in Matsuhima