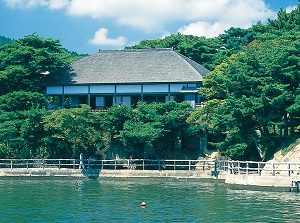 Kanrantei
Photo by Miyagi Prefecture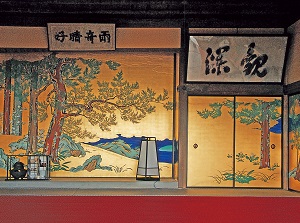 Japanese room in Kanrantei
Photo by Miyagi Prefecture
Kanrantei is a palace of Date Clan.
It is located by Matsushima Bay and 0.3 km east of Matsushima-kaigan station.
In the end of the 16th century, Date Masamune, a leading warlord in this region, got a tea-ceremony house in Fushimi Castle in Kyoto from then Shogun, Toyotomi Hideyoshi.
Masamune moved it to the Date's residence in Edo (Tokyo).
After that, Tadamune, a Masamune's son, moved to here in the mid-17th century.
In the Japanese rooms, there are gilded sliding screens and gorgeous pictures are painted on them.
It is said that it was used as an entertainment or accommodation facility for important people.
You can enter the room and enjoy the scenery of Matsushima in the room.
And you can also enjoy Japanese tea and confectionery in the room.
There is Matsushima Museum next to the tea house.
It introduces Matsushima and displays the materials of Date Clan.
How to get here
About 400 meters walk from JR Matsushima-kaigan station.
Hotels in Matsushima
Other Tourist Attractions in Matsuhima