Miracle Lone Pine [
奇跡の一本松

]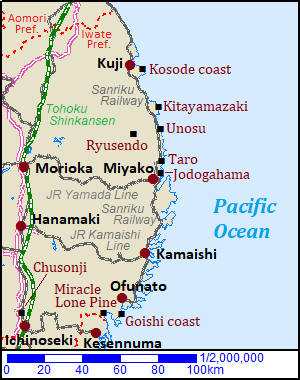 Miracle Lone Pine is a pine tree surviving the tsunami after the Great East Japan Earthquake in 2011.
In Japanese, it is called "Kiseki no Ipponmatsu".
It is located on the beach near the mouth of Kesen River in Rikuzen-Takata city.
Rikuzen-Takata is located about 10 km southwest of Ofunato city and about 15 km north-northeast of Kesennuma city.
The beach with the pine tree is the south end of the city and faces to a small Hirota Bay.
This beach was a beautiful sand beach about 2 km long and about 70,000 pine trees had been planted along the beach as a windbreak or a tide preventing facility since 1667.
It was called Takata Matsubara (高田松原).
On March 11 in 2011, the Great East Japan Earthquake occured at 14:46, then the tsunami reached here at 15:23.
The tsunami over 10 meters high rode over the forest of the pines and destroyed the main area of the city.
Over 1,700 people were left dead or missing by the tsunami.
But, only the pine tree remained against the tsunami.
The people in the city called it as "Miracle Lone Pine", and the mayor called "Hope of Takata Matsubara".
The pine tree became the symbol of reconstruction in Rikuzen-Takata.
And this tree became known nationwide.
Many people visited this tree to see the miracle.
But the tree was dying because of the damage of salt and oil from the water of tsunami.
In 2012, the possibility that the tree falls had been raised.
So the city decided to preserve the tree with keeping the shape.
In September of 2012, the tree was cut into five parts, and five professional companies in Japan applied processing for long term preservation.
Then, the restoration was completed and the lifelike pine tree was stood as a monument at the same place on June 30, 2013.
The original tree was about 27 meters high and it was estimated that the tree budded in 1839.
To visit here, there is Ipponmatsu-jaya (一本松茶屋).
It is an only souvenir shop in Rikuzen-Takata.
There is the parking and the bus stop.
To Miracle Lone Pine, you walk for about 800 meters from there.
How to get here
From Ichinoseki (a station of Tohoku Shinkansen) to Kesennuma, about 1 hour and 25 minutes by local train of JR Ofunato Line.
Then, from Kesennuma, the bus for Sakari is operated instead of train.
Get off at "Kiseki-no-Ipponmatsu" stop. About 26 minutes from Kesennuma.
From Kamaishi, about 50 minutes to Sakari by Sanriku Railway.
Then, by the bus of JR Ofunato Line for Kesennuma, about 50 minutes from Sakari.
Hotels around Kamaishi, Kesennuma
Other Tourist Attractions in Sanriku Coast
Northern Part
Southern Part