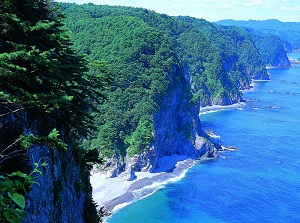 Unosu cliff
Photo by Iwate Prefecture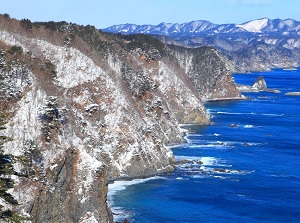 Unosu cliff in winter
Photo by Iwate Prefecture
Unosu cliff ("Unosu Dangai" in Japanese) is the coast with high cliffs, and is located about 28 km north of Miyako city.
Very steep cliffs about 200 meters high are lined more than 2 kilometers.
This is a typical coast terrace, so the head of cliff is comparatively flat.
"Unosu" means "nest of cormorant", because there are really many nests of cormorant on the cliff.
At the southern end of the cliff, there is an observatory.
You can see the magnificent scenery there.
How to get here
To visit here, you need to use a car. (There is no public transportation.)
There is the parking about 500 meters west of the observatory.
The driving distance is about 40 km from Miyako.
It takes 1 hour.
When you use Sanriku Railway, get off at Shimanokoshi station (about 40 minutes from Miyako) and get a taxi. (About 12 km)
Other Tourist Attractions in Sanriku Coast
Northern Part
Southern Part