Kamaishi Daikannon [
釜石大観音

]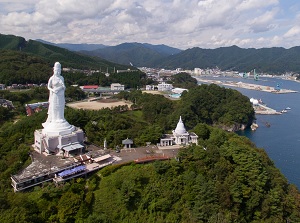 Kamaishi Daikannon
Photo by Kamaishi City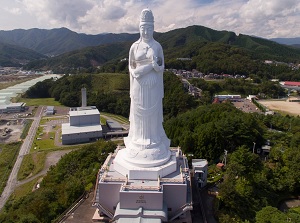 Kamaishi Daikannon
Photo by Kamaishi City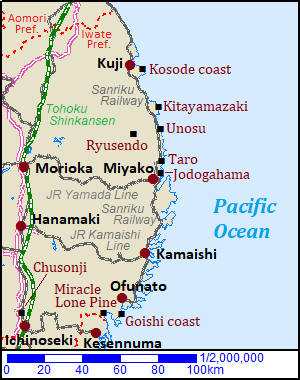 Kamaishi Daikannon is a huge statue of Kannon which is the Buddhist Goddess of Mercy.
It is located about 3 km southeast of the center of Kamaishi city.
It stands on a hill of a small cape facing to Kamaishi Bay.
Kamaishi is a city in the southern part of Sanriki Coast, and is located about 40 km south of Miyako city.
There is the Japan's oldest iron factory which began operations in 1880.
Because the center part of Kamaishi city is located in the innermost part of a bay, huge and strong breakwaters had been constructed in the bay to guard the city.
But, the tsunami after the Great East Japan Earthquake in 2011 destroyed the breakwaters easily, and flew into the city.
More than 1,000 people were left dead or missing by the tsunami in Kamaishi.
Kamaishi Daikannon was constructed in 1970 as a statue of Sekiouzenji temple.
It was constructed with white reinforced concrete and the height is 48.5 meters.
This Kannon unusually has a fish in her arms.
At the foot of the statue, there is the main hall.
And a lot of various Kannon statues are enshrined.
There is a spiral staircase inside the statue.
The part of fish on the chest of the Kannon is the observation room.
You can see the scenery of Kamaishi Bay.
Near the Daikannon statue, there is Bussharitou (仏舎利塔).
It is an Indian-style pagoda.
In the pagoda, the remains of Buddha donated from Sri Lankan in 1975 are enshrined.
"Lover's Sancturary", a non-profit organization In Japan, selected this Kannon as one of the Lover's Sancturary.
It is a project to support the success of marriage for a countermeasure against the decreasing birthrate.
So there is the heart-shaped monument in front of the Kannon statue.
If you want to propose to your lover, this is a good place.
How to get here
To Kamaishi station :
From Shin-Hanamaki (a station of Tohoku Shinkansen), about 1 hour and 30 minutes by rapid train, about 1 hour and 50 minutes by local train of JR Kamaishi Line.
By Sanriku Railway, about 1 hour and 20-40 minutes from Miyako station to Kamaishi station.
From Kamaishi station to Daikannon, the route bus rarely runs.
So you must use a taxi or a rental car.
Hotels around Kamaishi
Other Tourist Attractions in Sanriku Coast
Northern Part
Southern Part