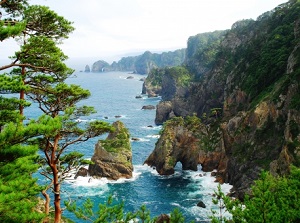 Kitayamazaki cliff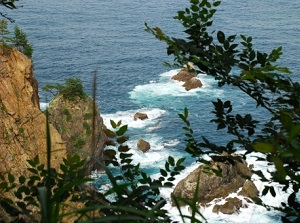 Sea around Kitayamazaki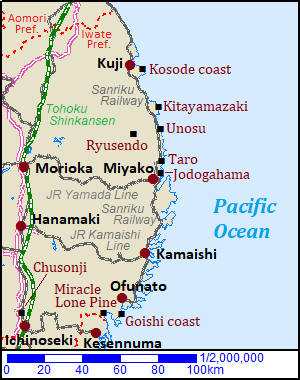 Kitayamazaki is the coast with high cliffs, and is located about 40 km north of Miyako city.
It is one of popular spots in Sanriku coast.
The southern edge is about 6 km north of Unosu cliff and steep cliffs are lined more than 8 kilometers.
Unosu cliffs have orderly scenery, but Kitayamazaki cliffs have varied scenery with strange rocks and caves.
In early summer, cold wind called "Yamase" blows from northeast and thick fog rises on the sea.
(Yamase sometimes causes damage to agricultural products in Tohoku area.)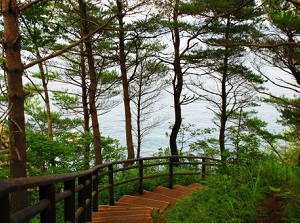 Stairs of Kitayamazaki observatory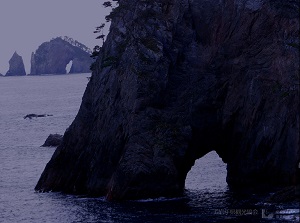 Rocks of Kitayamazaki
Photo by Iwate Prefecture
Kitayamazaki Observatory is at the middle of the long coast with the cliff.
It has three observation places.
The first is on the head of cliff, the second is on a cliffside and the third is at the bottom of cliff.
These are connected by a stairs with 718 steps.
After you have reached the third observatory, of course, you must climb the long stairs to return.
How to get here
By Sanriku Railway, get off Tanohata station.
About 42 minutes from Miyako.
Then about 20 minutes by route bus.
Near Shimanokoshi station of Sanriku Railway (next station of Tanohata), there is the port of pleasure boat cruising Kitayamazaki.
You can cruise around the cliffs for 50 minutes.
Hotels around Miyako
Other Tourist Attractions in Sanriku Coast
Northern Part
Southern Part