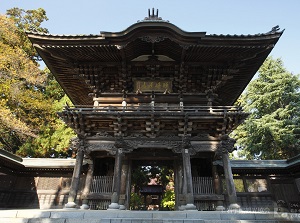 Main gate of Ho-onji
Photo by Iwate Prefecture
Ho-onji is a temple of the Soto Zen sect of Japanese Buddhism.
It is located about 1.3 km north of Iwate Park.
In Japanese, the first "o" in the word is pronounced long, so it is read as "Hô-onji".
This temple was established by Nanbu Yukimori, a lord in this area, in 1362.
And it was moved to this place in 1601.
The main hall was rebuilt in 1851, and the main gate was built in 1978.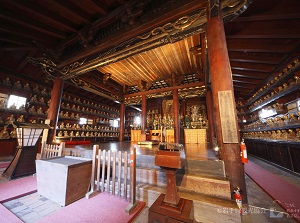 Gohyaku-Rakan
Photo by Iwate Prefecture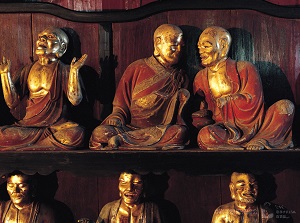 Statues of Gohyaku-Rakan
Photo by Iwate Prefecture
Especially, the highlight of this temple is Gohyaku-Rakan (五百羅漢) in Rakando hall.
"Gohyaku" means "500", and "Rakan" means "the disciple of Buddha".
In this hall, there are 499 Rakan statues are contained. (One Rakan may be lost.)
These are put on the five-tier shelf.
Rakando hall was built in 1735.
It is assumed that the hall was built because the 500 Rakan statues had been completed.
The 500 wooden Rakan statues were carved by nine sculptors in Kyoto between 1731 and 1734.
The facial expressions and actions of the statues are all different.
In addition, we may be able to find the statues like foreigner such as Marco Polo (an Italian merchant in the 14th century) and Kublai Khan (a Mongol Empire in the 13th century).
How to get here
By loop bus "Denden Mushi", get off at "Honcho-dori Icchome" stop.
About 11 minutes from Morioka station.
Then, about 700 meters walk.
Other Tourist Attractions in Morioka city