Ishiwarizakura (Rock-Breaking Cherry Tree) [
石割桜

]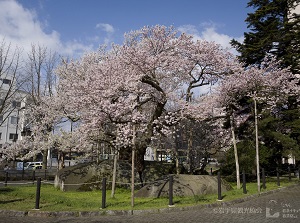 Ishiwarizakura
Photo by Iwate Prefecture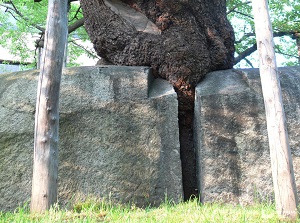 Ishiwarizakura breaking a rock
Photo by Iwate Prefecture
Ishiwarizakura is a unique cherry tree, in front of the building of Morioka District Court located 150 meters north of Sakurayama shrine.
"Ishiwari" means "rock breaking".
"Zakura" means "cherry blossom" and "sakura" is changed to "zakura" by the link of words.
It grows in a cranny of a big rock.
It is over 360 years old, and has a diameter of over 1.3 meters.
The height is about 11 meters.
It is said that a seed of cherry got into the crevice formed by a stroke of lightning and it has grown.
In 1932, the court building suffered from a fire, but fortunately this tree got away with only partial burning.
Still it produces many beautiful blossoms every year.
The best season is the middle of April, and is about a week earlier than the other cherry trees.
In English, it is translated as "Rock-Breaking Cherry Tree".
How to get here
By loop bus "Denden Mushi", get off at "Chuo-dori Icchome" or "Kencho, Shiyakusho mae" stop.
about 10 minutes from Morioka station.
Hotels in Morioka
Other Tourist Attractions in Morioka city