Morioka Hachiman shrine [
盛岡八幡宮

]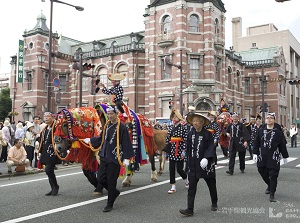 Chagu-chagu Umako
going to Morioka Hachimanguu
Photo by Iwate Prefecture
Morioka Hachiman shrine ("Morioka Hachimanguu" in Japanese) is an Shinto shrine.
It is located about 1.3 km east-eastsouth of Iwate Park.
At first, The shrine was established in 1062.
And it was rebuilt in this site in 1680.
The main Torii gate was rebuilt in 2002, and the old Torii built in 1763 was moved to the other place.
The size of the site is about 250 meters north to south, and about 220 meters east to west.
The main hall is at the center of the site.
And, some other shrines are gathered around the main hall.
Chagu-chagu Umako festival is held on the 2nd Saturday in June.
More than 100 horses with colorful costume parade the distance of 15 km from Onikoshi-souzen shrine in Takizawa village, and the parade arrives at this Morioka Hachimangu.
How to get here
By route bus, get off at "Hachimangu mae" stop.
about 15 minutes from Morioka station.
Other Tourist Attractions in Morioka city