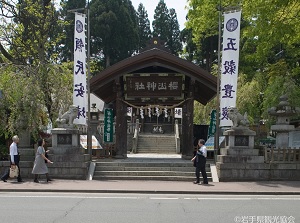 Sakurayama shrine
Photo by Iwate Prefecture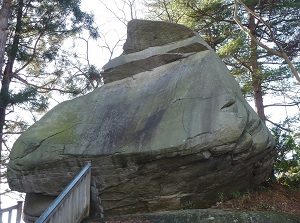 Eboshi-iwa
Sakurayama shrine ("Sakurayama Jinja" in Japanese) is a Shinto shrine in the north part of Iwate Park.
It was established by the lord Nanbu Toshimi in 1749.
The shrine enshrines the ancestors of Toshimi.
They were the feudal lords, so the shrine was built in the site of Morioka Castle which was the base of government.
There is a big triangular rock 6.6 meters high by the side of the main hall.
It is called Eboshi-iwa (烏帽子岩).
When Morioka Castle was under construction, this rock was digged out in the site.
The lord called this as an auspicious rock.
So, Nanbu family had valued the rock as a treasure for generations.
It is still enshrined as a god of this shrine.
By the way, the first kanji charcter (櫻, sakura) is the old form in Japan, so it is often written as "桜山神社" using the new form.
How to get here
By loop bus "Denden Mushi", get off at "Morioka Joato Koen" stop.
6 minutes from Morioka station.
About 200 meters from the bus stop.
Hotels in Morioka
Other Tourist Attractions in Morioka city