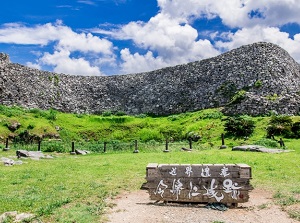 Nakijin Castle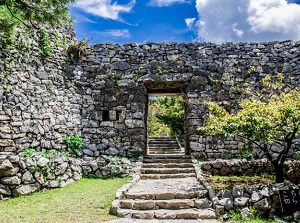 Heiroumon of Nakijin Castle
Nakijin Castle ("Nakijin-gusuku" or "Nakijin-jô" in Japanese) is the castle of Ryukyu Kingdom.
It is located about 6 km east of Okinawa Churaumi Aquarium and Ocean Expo Park.
And it is located about 13 km north-northwest of Nago city.
The castle was on a hill at the north part of Motobu Peninsula.
In the 14th century, there were three kingdoms in Okinawa Island.
It is said that this castle was built in the 13th century, and the king of a northern kingdom had lived since that.
The kingdom was destroyed by King Sho Hashi in 1416.
He unified Okinawa island and established the Ryukyu Kingdom.
Then, Nakijin Castle was used to govern the northern area of the island.
But after the invasion of Satsuma Domain in Kagoshima, this castle was abandoned in 1665.
This castle has been restored since the middle of the 20th century.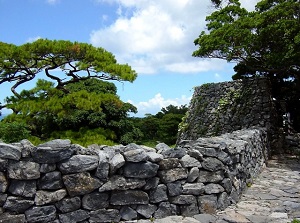 Stone wall of Nakijin Castle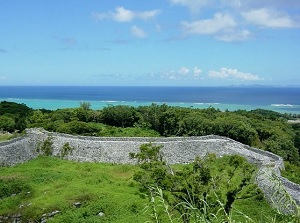 View from Nakijin Castle
The site of the castle is about 0.8 km from northeast to southwest and about 0.3 km wide.
It is one of the largest castles in Okinawa.
The main area of the castle is in the southeast part of the site, and is surrounded by the stone wall about 1.5 km long.
The site is made up of about eight enclosures surrounded by stone walls.
The main gate is set up on the northwest side of the castle and is called "Heiroumon" (平郎門).
There is a wide forest on the southwest side of the castle, and it has been a sacred area.
And there is the ruin of the castle village on the northwest side of the castle.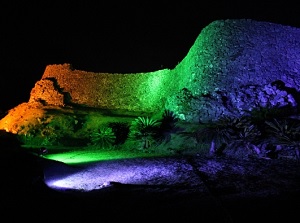 Illuminated Nakijin Castle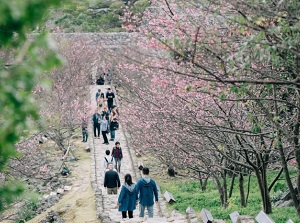 Cherry blossoms in Nakijin Castle in spring
Along the way to the castle, many trees of Taiwan cherry.
So, this castle is one of the major viewing spots of cherry blossom in Okinawa.
The cherry blossoms are in full bloom in late January or early February.
In 2000, this castle was declared a World Heritage site, as one of Gusuku Sites and Related Properties of the Kingdom of Ryukyu.
How to get here
By express route bus, about 2 hours from Naha terminal to Nago terminal.
Then, by route bus, about 45 to 60 minutes from Nago terminal to Nakijinjo-iriguchi stop.
Other Tourist Attractions in Okinawa Prefecture
South part in Okinawa Island
Middle and north part in Okinawa Island
Other islands of the prefecture