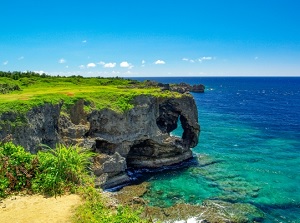 Manzamo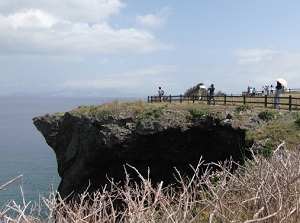 Observatory on Manzamo
Cape Manzamo is a cape on the western coast of Okinawa Island.
The last "o" in the word is pronounced long, so it is read as "Manzamô".
It is located about 15 km northeast of Cape Zanpa and about 12 km northeast of RyukyuMura park.
Beautiful beaches and scenic spots are dotted along the western coast of Okinawa Island to the north of Cape Zanpa.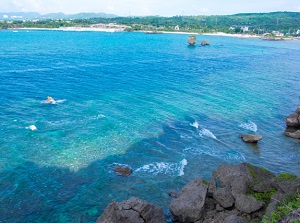 View of the sea from Manzamo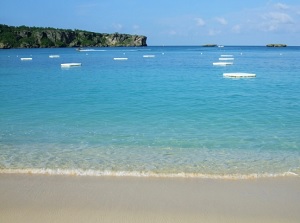 View of Manzamo from a beach
There are steep cliffs around the coast, and the color of sea is very beautiful blue because of limestone rock.
Most famous cliff of Manzamo has the shape of a nose of elephant.
The land on the cliff is flat and is covered with grass.
"Manzamô" means "field where 10,000 people can sit down".
It is said that this name was given by Shokei (1713-1752), a king of Ryukyu when he visit this place in 1726.
How to get here
By route bus, about 1 hour and 35 minutes from central Naha to Onnason-yakuba-mae stop.
About 15 minutes walk from there (About 1 km).
Other Tourist Attractions in Okinawa Prefecture
South part in Okinawa Island
Middle and north part in Okinawa Island
Other islands of the prefecture