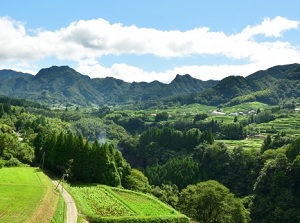 Takachiho town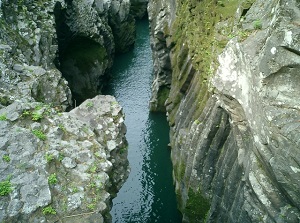 Takachiho Gorge
Takachiho Gorge ("Takachiho-kyô" in Japanese) is the steep gorge formed by Gokase River flowing through the north part of Miyazaki Prefecture.
Takachiho town is located in the mountain about 45 km west-northwest of Nobeoka city.
It is in the upper reaches of Gokase River and the gorge is just near the town.
There is Mount Aso about 35 km northwest of this area.
Mount Aso erupted two times around 120,000 years ago and 90,000 years ago.
The lava and volcanic ash had flown down and deposited around this area.
The deposits changed to tuff, and the erosion by the water of Gokase River has formed this gorge.
The rocks are not so hard, so most of the cliffs in this gorge are very steep.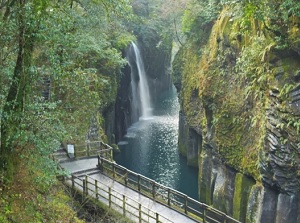 Walking trail in Takachiho Gorge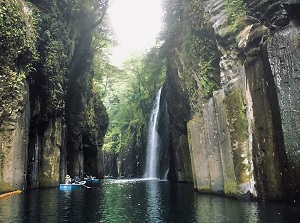 Rental boats around Manai Falls
The gorge is about 7 km long.
The width of the river is not so wide, but vertical cliffs on the both sides are 80 to 100 meters high.
There are some waterfalls along the gorge.
Especially, Manai Falls (真名井の滝) is popular.
Around the waterfall, walking trails are set up.
To enjoy the gorge, you can use the rental boat.
How to get here
By limited express of JR Nippo Line, to Nobeoka, about 2 hours and 10 to 20 minutes from Oita, about 1 hour and 10 minutes from Miyazaki.
By route bus, about 1 hour and 20 to 30 minutes from Nobeoka station to Takachiho Bus Center.
Hotels around Takachiho Gorge
Other Tourist Attractions in Miyazaki Prefecture