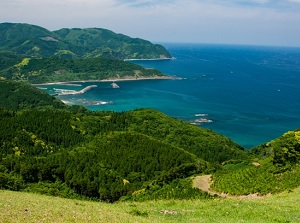 Cape Toi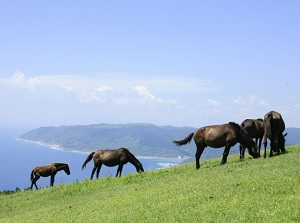 Ponies on Cape Toi
Cape Toi is a small peninsula at the south edge of Miyazaki Prefecture.
In Japanese, it is called "Toi-misaki" or "Toi-no-misaki".
It is in Kushima city, and is located about 18 km southwest of the center of the city.
Kushima is about 70 km south of Miyazaki city.
The cape is about 4 km long and about 2 km wide, and extends to the south.
The cape is surrounded by vast Pacific Ocean.
Whole cape is hilly, and the coastline has mostly steep cliffs.
This cape is well-known for wild ponies.
Originally the ponies had been pastured for military use since 1697.
But the large horses from the Western countries had come to be used in the early 20th century, so the number of this pony decreased.
Now about about 120 half-wild ponies are alive on Cape Toi.
They are designated as national natural treasures, because they are rare wild Japanese ponies.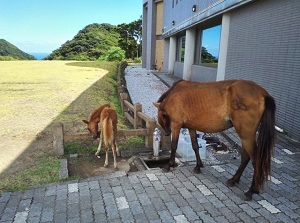 Ponies by Visitor Center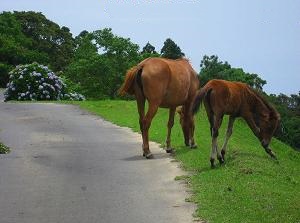 Ponies on a road
The southern half of the cape is the area where the ponies are alive.
There is Visitor Center near the edge of the cape.
It is also the museum of the pony.
Route bus is operated to Visitor Center.
The ponies walk around not only on the hills but also roadways.
You may see the ponies around the Visitor Center.
But they are wild, so you shouldn't go near them.
And you must be careful about horse manure on the road in Cape Toi.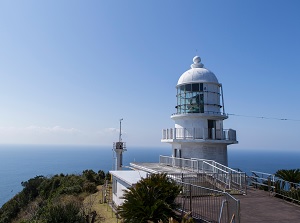 Toi-misaki Lighthouse
Photo by Miyazaki Prefecture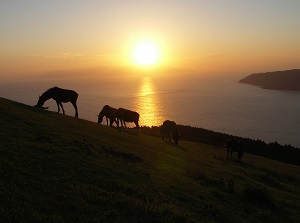 Sunrise at Cape Toi
Photo by Miyazaki Prefecture
The walking trails are set up around Visitor Center.
There are a few observatories, and the distance from Visitor Center is 1.5 to 2 km.
On the tip of the cape, there is Toi-misaki Lighthouse built in 1929.
The inside is opened to the public, and the museum about the lighthouse is attached.
How to get here
By local train for Shibushi of JR Nichinan Line, about 2 hour 50 minutes from Miyazaki to Kushima.
Some trains are for Abratsu or Nango.
At that time, you change the train at each station.
From Kushima station, about 40 minutes by community bus.
It is operated only a few times a day.
Other Tourist Attractions in Miyazaki Prefecture