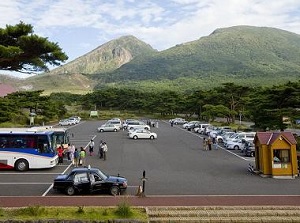 Karakunidake from a parking lot
of Ebino Plateau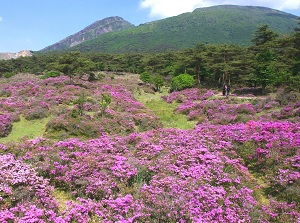 Kyushu azaleas in Ebino Plateau
Photo by Miyazaki Prefecture
Ebino Plateau ("Ebino Kôgen" in Japanese) is located near the southwestern edge of Miyazaki Prefecture and is in Ebino city.
It is about 70 km west of Miyazaki city and about 80 km north of Kagaoshima city.
Mount Kirishima (霧島山) is a group of active volcanoes, and has many peaks around the border between Miyazaki Prefecture and Kagoshima Prefecture.
Ebino Plateau is located in the northwest part of the volcano.
It is on a small basin surrounded by some peaks of the volcano.
It is about 5 square kilometers wide.
Karakunidake peak (韓国岳, 1,700 m) is the highest peak, and is to the southeast of the basin.
And, there is Koshikidake (甑岳, 1,301 m) to the northeast, and Shiratoriyama (白鳥山, 1,363 m) to the north.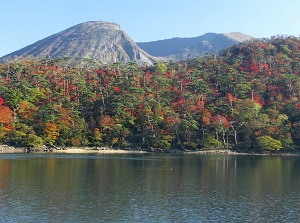 Rokkannon-miike
Photo by Miyazaki Prefecture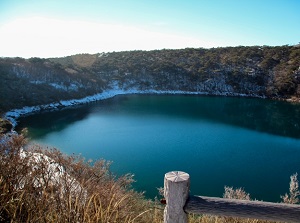 Fudou-ike
Photo by Miyazaki Prefecture
The altitude of the plateau is about 1,200 meters.
Some round crater lakes are dotted in the basin, and some walking trails to visit them are set up.
Main three lakes are Byakushi-ike (白紫池), Rokkannon-miike (六観音御池), and Fudou-ike (不動池).
The length of the walking trail touring about the lakes is about 6 km.
It starts from the resort town on the south side of the lakes.
There are a few hotels, restaurants, and information center.
How to get here
By limited express of JR Nippo Line, to Kirishima-Jingu, about 1 hour and 20 minutes from Miyazaki, about 50 minutes from Kagoshima-chuo.
Then, by route bus, about 1 hour and 10 minutes to Ebino Plateau.
Only 2 services in the morning are all.
They return to Kirishima-Jingu station in the afternoon.
Hotels around Ebino Plateau
Other Tourist Attractions in Miyazaki Prefecture