Saitobaru Burial Mounds [
西都原古墳群

]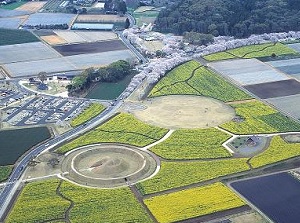 Saitobaru Burial Mounds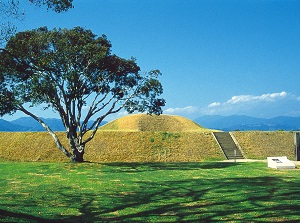 Oni-no-iwaya in Saitobaru Burial Mounds
Photo by Miyazaki Prefecture
Saitobaru Burial Mounds are on the flat western hills of Saito city located about 25 km north of Miyazaki city.
The site is about 4 km from northwest to southeast in length, and about 2 km in width.
There are 311 burial mounds constructed from the 3rd to 7th centuries.
It is the Japan's largest scale as the site of ancient burial mounds.
Japanese ancient burial mound is classified according to the shape.
This site has 279 round mounds, 1 square mounds and 31 large keyhole-shaped mounds.
Additionally, there are 10 cave tombs and 12 underground tombs.
Most famous burial mounds in Japan are Daisenryo Kofun and some ancient tombs near Osaka city.
At that time, small nations had been formed in Japan.
It is thought that the strong nations were around Kansai Region including Osaka and Nara and in the north part of Kyushu Island.
But Saitobaru is very far from such areas.
The full‐scale investigation for these burial mounds had been conducted from 1912 to 1917.
And the archaeological museum was founded in 1952, and some facilities has been built in this area.
But it has not been clarified why many burial mounds had been constructed in this area and who had been buried in the tombs.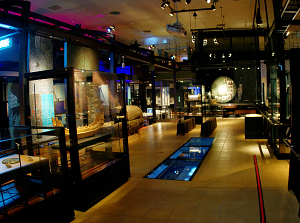 Saitobaru Archaeological Museum
Photo by Miyazaki Prefecture

Saitobaru Burial Mounds in spring
Photo by Miyazaki Prefecture
Near the archaeological museum, there are two large mounds.
One is Osahozuka (男狭穂塚) 175 meters long, and another is Mesahozuka (女狭穂塚) 180 meters long.
These were constructed in the early 5th century, and are managed by Imperial Household Agency as the tombs of the Shinto gods in Japanese mythology.
Himezuka (姫塚) is one of the mounds with beautiful shape.
And Oni-no-iwaya (鬼の窟) has the mound with a legend that a damon constructed overnight.
In this site, about two thousand cherry trees are planted.
And the countless flowers of rapeseed in spring and cosmos in autumn cover the fields in this area.
How to get here
JR Minami-Miyazaki is the next station of Miyazaki, and all trains stops there.
There is a bus terminal, Miyako-city.
Then, by route bus for Saito Bus Center, about 1.5 hours to Koko-hakubutsukan stop.
But, it is operated only one or two times a day.
The departure time at Miyako-city is around 10:10 and the return bus depart from the museum in the afternoon.
Hotels around Saitobaru Burial Mounds
Other Tourist Attractions in Miyazaki Prefecture