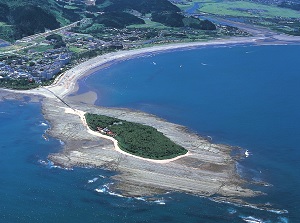 Aoshima island
Photo by Miyazaki Prefecture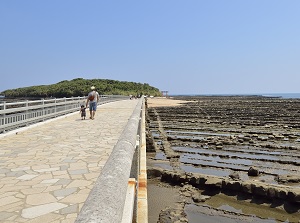 Bridge to Aoshima island
Photo by Miyazaki Prefecture
Aoshima is a small island located about 15 km south-southeast of the center of Miyazaki city.
It is about 500 meters from east to west and about 150 meters from north to south.
Its total area is about 4.4 hectares.
There is no mountain and hill in the island, and its highest point reaches an altitude of 6 meters.
It is only about 130 meters off from the mainland, so a bridge connects the island and the mainland.
The coast around this island is covered with the bedrocks which have regular and straight stripes of geological layers.
It is called Oni-no-Sentakuita (鬼の洗濯板).
In English, it means "Ogre's Washboard".
At low tide, the unique bedrock is seen about 100 meters off the coast of the island.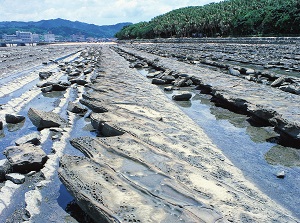 Oni-no-Sentakuita around Aoshima island
Photo by Miyazaki Prefecture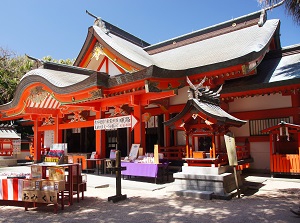 Aoshima Shrine in Aoshima island
Photo by Miyazaki Prefecture
The island is covered with a forest.
There are over 200 kinds of plants, and 27 of them are tropical plants.
Especially, the large community of Chinese fan palm is precious, so it is designated as a national natural treasure.
The only building in this island is Aoshima Shrine (青島神社).
Whole Aoshima island is the precincts of this shrine.
It is unknown when this shrine was founded.
In an ancient book, this shrine was existing in the 9th century.
The shrine was rebuilt in 1503, and it had been sometimes repaired.
The commoners had not be allowed to visit this shrine, but it was opened to the public in 1737.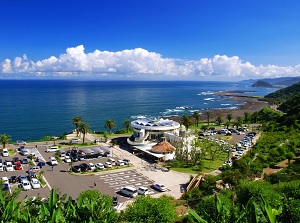 Horikiri Pass
Photo by Miyazaki Prefecture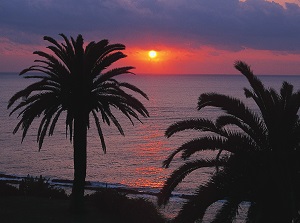 Sunset around Aoshima
Photo by Miyazaki Prefecture
The coast around Aoshima is generally called Nichinan Kaigan (Nichinan Coast), and is desgnated as a a Quasi-National Park.
JR Nichinan Line and Natioal Route 220 run along the coast, and we can see the scenery of tropical sea.
Especially, Horikiri Pass (堀切峠) located about 5 km south of Aoshima is a popular scenic spot.
There are a parking lot and an observatory park, and we can enjoy the blue ocean and unique Oni-no-Sentakuita.
How to get here
By local train of JR Nichinan Line, about 30 minutes from Miyazaki to Aoshima.
Or, by route bus, from Miyazaki station, about 50 minutes to Aoshima, about 1 hour to Michi-no-eki Phoenix (Horikiri Pass).
Other Tourist Attractions in Miyazaki Prefecture