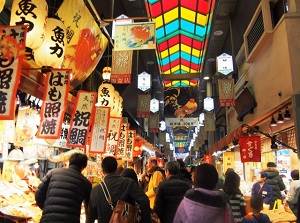 Nishiki Market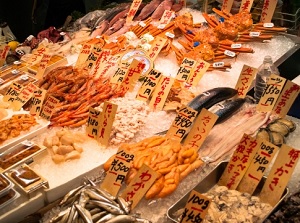 Fish shop in Nishiki Market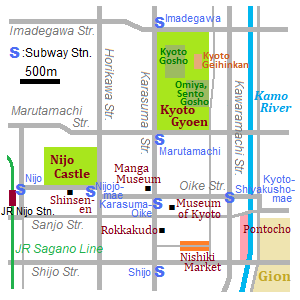 Nishiki Market is the traditional and popular market in Kyoto.
It is called "Nishiki-ichiba" in Japanese, and people in Kyoto often call as "Nishiki" simply.
The market is along narrow Nishikikoji Street one block north and parallel to Shijo Street running from east to west.
And the east end is Teramachi Street and the west end is Takakura Street.
The length of the street is about 390 meters.
It is located about 2.5 km north of Kyoto station and about 1 km west of Gion district.
From around the 8th century, fish shops gathered in this area.
In 1615, Edo government authorized this area as a formal market.
Since that, Nishiki Market became the main market of Kyoto.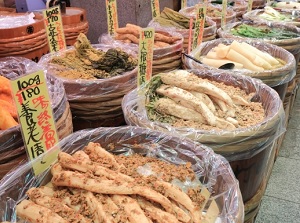 Pickles shop in Nishiki Market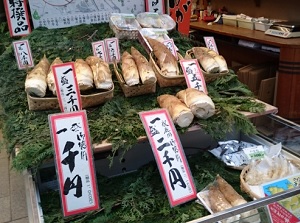 Kyoto vegetable in Nishiki Market
There are many shops of fish, vegetable and some other foods in this market.
And we can find unique Kyoto vegetables (kinds of vegetables that are created around only Kyoto) and Kyoto pickles for Kyoto cuisine in this market.
Also there are the shops of tofu and yuba (tofu skin).
Some shops sell various ready made foods.
They are called Obanzai in the Kyoto dialect.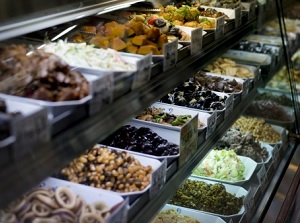 Obanzai in Nishiki Market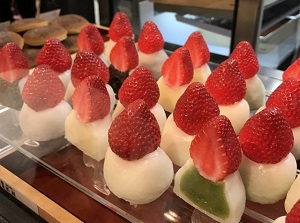 Sweets in Nishiki Market
This market has been popular for tourists.
But foreign tourists are increasing recently and the tourists having bad manners are also increasing.
Now this market prohibits eating while walking.
Instead, many food shops set up an eating space.
When you eat the food, please eat there.
We expect your cooperation.
How to get here
The nearest station of subway is Shijo (●K09 Karasuma Line).
About 200 meters from the station.
Other Tourist Attractions in Kyoto Prefecture