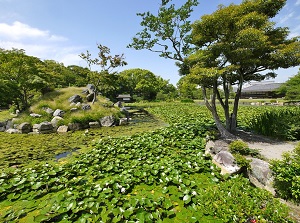 Shosei-en
Photo by Kyoto Free Photo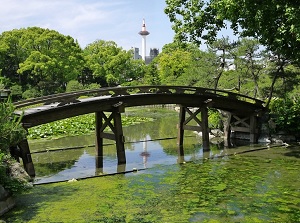 A brigde in Shosei-en
Photo by Kyoto Free Photo
Shosei-en is a Japanese garden located about 250 meters east of Higashi-Honganji temple.
The first "o" in the word is pronounced long, so it is read as "Shôsei-en".
This site is a part of the precinct of Higashi-Honganji.
In 1641, this site was donated by Tokugawa Iemitsu, the 3rd Shogun of Edo government.
And Japanese garden was built in the site in 1653.
Since that, this garden had been used as a guest house or a retire place of the chief priest of the temple.
It was destroyed by fire in 1858 and 1864, and the current garden was rebuilt in the 1860s to 1870s.
The site is a square shape with the sides about 200 meters long.
The east side faces Karawramachi Street, but the entrance is on the west side.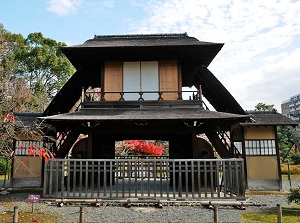 Unique Boukakaku villa in Shosei-en
Photo by Kyoto Free Photo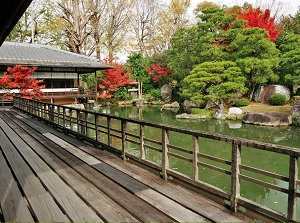 Shosei-en in autumn
Photo by Kyoto Free Photo
There is a large pond in the garden, and a few tea houses and the some other villas are around the pond.
And there are a few small bridges on the pond.
This garden is opened to the public throughout the year.
The admission is free.
Instead, the garden requests for a contribution to preserve the garden. (More than 500 yen)
How to get here
About 700 meters walk from Kyoto station.
Other Tourist Attractions in Kyoto Prefecture