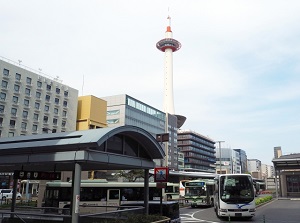 Kyoto Tower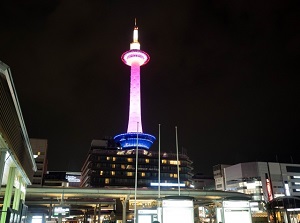 Kyoto Tower in the evening
Kyoto Tower is an observation tower in front of Kyoto station.
It was opened in 1964, and was reopened after renovation in 2013.
It stands on Kyoto Tower Building.
It is a commercial complex named as KYOTO TOWER SANDO with a hotel, restaurants and shops.
The height of the building is 31 meters and the height of the tower is 100 meters.
(So, the level of the top is 131 meters.)
Because Kyoto is a historic city, high buildings can't be built by regulations of the city.
Therefore, Kyoto Tower is the highest building in Kyoto city.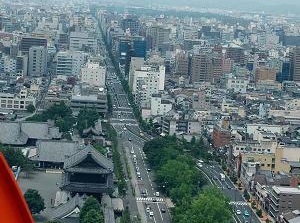 View of Karasuma Street from Kyoto Tower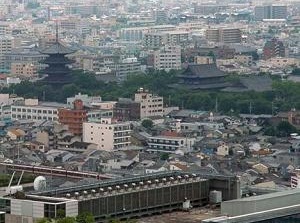 View to the south from Kyoto Tower
The observatory room is at the level of 100 meters, and we can go up by elevator from the 11th floor of Kyoto Tower Building.
From the observatory room, we can see the view of Kyoto city.
If it is fine, we can see the view of Osaka city.
To our delight, all telescopes on the observatory room are free.
How to get here
On foot, within a few minutes from Kyoto station.
Hotels around Kyoto station
Other Tourist Attractions in Kyoto Prefecture