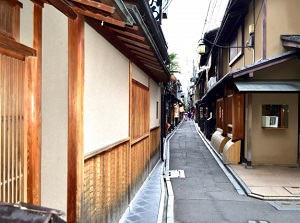 Pontocho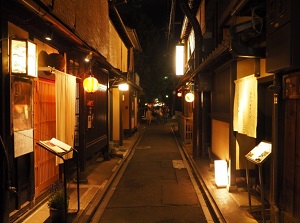 Pontocho in the evening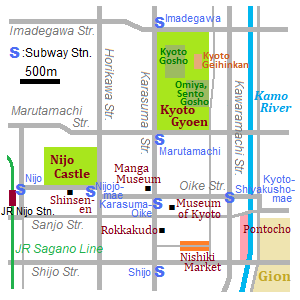 Pontocho is one of the entertainment districts in Kyoto.
It is located just on the west side of Kamo River, and is between Sanjo Street and Shijo Street.
There is Gion district on the opposite side of the river.
This area is along a stone-paved alley running from north to south.
The length is about 500 meters.
Many old Japanese restaurants and tea houses line along the alley.
So this district has several Maiko and Geisha.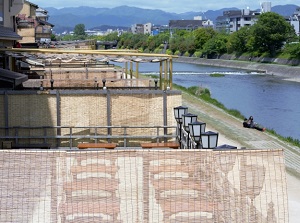 Noryo-doko facing Kamo River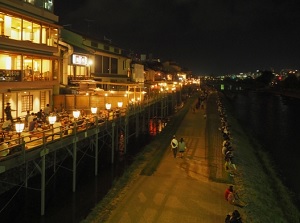 Noryo-doko in the evening
There are also many common restaurants, cafes and bars.
So first guests can visit such places casually.
Especially the restaurants facing Kamo River set up temporary terraces by the river from May to September every year.
It is called Noryo-doko (納涼床, Cool floor) or Kawa-doko (川床, River Floor).
The guest can enjoy their meals outdoors seeing the scenery of the river.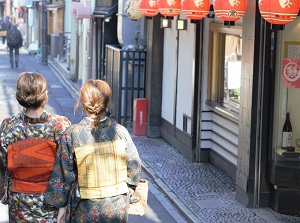 Alley of Pontocho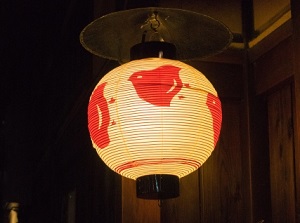 Lantern of Chidori
By the way, each of most restaurants and cafes hangs a paper lantern under the eaves.
The lantern has a mark of bird.
It is "plover" ("chidori" in Japanese), and is the symbol of Pontocho.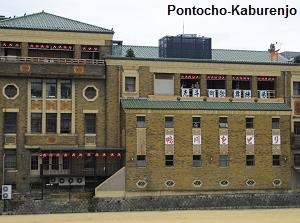 Pontocho-Kaburenjo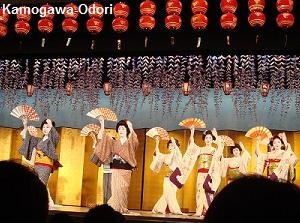 Kamogawa Odori
In the north part of this district, there is Pontocho-Kaburenjo (先斗町歌舞練場) theater.
It is a public facility, but Kamogawa Odori (鴨川をどり) held from 1st to 24th of May is the most popular event.
It is the gorgeous Japanese dance show along with "Miyako Odori" in Gion.
Many Geishas and Maikos dance on the stage beautifully.
How to get here
The nearest station of subway is Sanjo-Keihan (●T11 Tozai Line).
Or, Sanjo, Gion-Shijo stations of Keihan Railway and Kawaramachi terminal station of Hankyu Railway are close to Pontocho.
Hotels in Nakagyo Ward
Other Tourist Attractions in Kyoto Prefecture