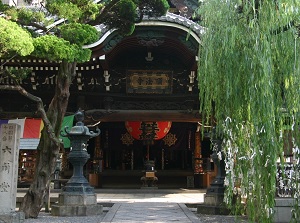 Rokkakudo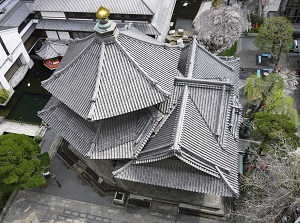 Rokkakudo
Photo by Kyoto Free Photo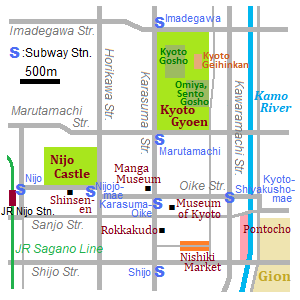 Rokkakudo is a small Buddhist temple.
It is located about 0.4 km south of Karasuma-Oike intersection.
And it is located about 2.5 km north of Kyoto station and 0.5 km northwest of Nishiki Market.
The position is roughly in the center of central Kyoto.
Therefore, the narrow temple grounds are surrounded with high buildings.
"Rokkakudo" means "Hexagonal temple".
Literally, the shape of main part of the temple is hexagonal.
The formal name of this temple is Chôhôji (頂法寺).
An ancient book describes that this temple was founded by Prince Shotoku in 587.
Prince Shotoku established a political system for the first time in Japan.
But some historians say that it was founded around the 10th or 11th century.
As a matter of fact, it is not exactly sure when this temple was founded.
Main temple has double hexagonal roofs, and the shape is complex in structure.
This building was rebuilt in 1877.
There are three Buddha statues in the temple.
But we cannot enter the temple and must worship in front of the temple.
In the temple grounds, there is a stone called Heso-ishi.
It means "navel stone".
It is said that it was the foundation stone of the original temple.
"Navel" is at the center of body.
Because this temple is located in the center of Kyoto, it has been called so.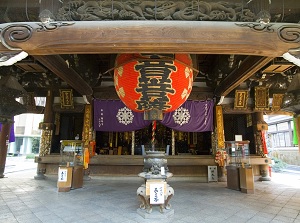 Main hall of Rokkakudo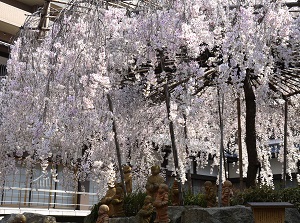 Cherry tree in Rokkakudo
Photo by Kyoto Free Photo
This temple was managed by the priests of Ikenobo Family since ancient times.
They had had a custom to place flowers by the Buddha statues.
For a long time, they had created a method how to arrange flowers artistically.
Now, Ikenobo is well-known as the master of Japanese flower arrangement.
There is the building of headquarters of Ikenobo next to this temple.
How to get here
The nearest station of subway is Karasuma-Oike (●K08 Karasuma Line, ●T13 Tozai Line).
About 250 meters walk from the station.
Other Tourist Attractions in Kyoto Prefecture