Tetsugaku-no-michi (Philosopher's Walk) [
哲学の道

]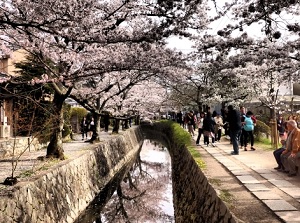 Tetsugaku-no-michi in spring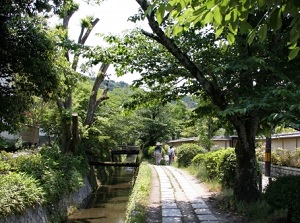 Tetsugaku-no-michi in summer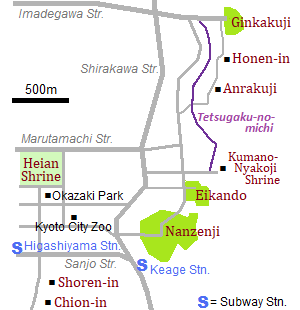 Tetsugaku-no-michi is a path along a branch canal of Lake Biwa Canal.
It is called "Philosopher's Walk" or "Philosopher's Path" in English.
The path runs from south to north along the foot of Higashiyama mountains, and the length is about 1.5 km.
The south end is near Kumano-Nyakôji Shrine (熊野若王子神社) located a little north of Eikando temple, and the north end is to the west of Ginkakuji temple (銀閣寺).
Lake Biwa Canal was completed first in 1890, and this branch canal was completed in 1912.
It has provided the water of Lake Biwa to use for industry, electric power generation and irrigation in Kyoto city.
(The main canal passes through Nanzenji as "Suirokaku".)
Tetsugaku-no-michi was originally an ordinary path along the branch canal.
Of course, it had not such classy name.
In 1921, a wife of a Japanese painter living around the path planted 300 cherry trees along the canal.
Nishida Kitaro (1870-1945), one of the excellent philosophers, had often taken a stroll along the path while thinking when he taught at Kyoto University around the 1910s to 1920s.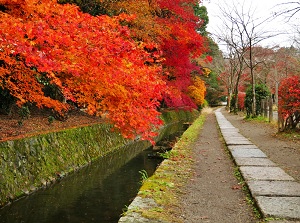 Tetsugaku-no-michi in autumn
Photo by Kyoto Free Photo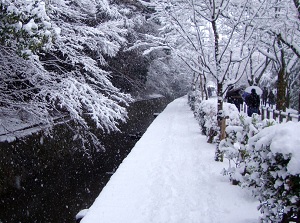 Tetsugaku-no-michi in winter
Photo by Kyoto Free Photo
This path had been desolated since World War II.
So, Kyoto city planned to remove the path.
But the citizens living around the path had demanded to save and improve the environment eagerly.
At last, Kyoto city responded to the demand, then the renewed path was completed in 1972.
At this time, "Tetsugaku-no-michi" (Philosopher's Walk) was named after Nishida Kitaro.
There are several sightseeing spots near this path such as Nanzenji, Eikando, Honen-in and Ginkakuji.
The cherry trees bloom along the path every spring.
The colored leaves of autumn are also attractive.
And, tea shops and restaurants are dotted along the path.
How to get here
On foot, to south end, about 0.8 km from Nanzenji, about 0.3 km from Eikando.
And, to north end, about 0.2 km from Ginkakuji.
Hotels in Sakyo Ward in Kyoto
Other Tourist Attractions in Kyoto Prefecture