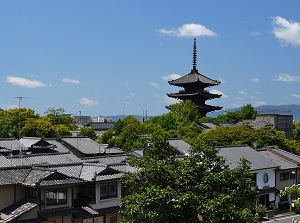 Yasaka Pagoda
Photo by Kyoto Free Photo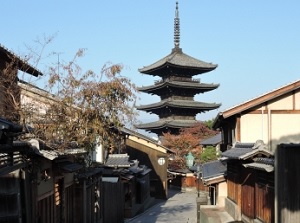 Yasaka Pagoda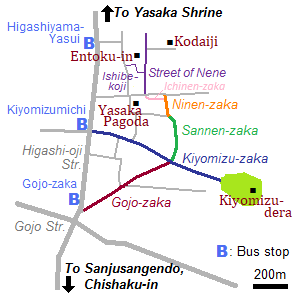 Yasaka Pagoda ("Yasaka no Tou" in Japanese) is a five-story pagoda located to the west of Ninen-zaka and Sannen-zaka streets.
This pagoda is in Hôkanji temple (法観寺).
It is said that this pagoda was built by Prince Shotoku in 592 and Hôkanji was founded at the same time.
The historical fact is not sure, but it is sure that the temple had existed before the transfer of the national capital to Kyoto in 794.
The pagoda had been destroyed by fire and rebuilt several times.
Current pagoda was rebuilt by Ashikaga Yoshinori (1394-1441), the 6th Shogun of Muromachi government, in 1440.
It is designated as an important cultural property.
Now, Hôkanji has only this attractive pagoda and a few small buildings in the narrow precincts.
So "Yasaka Pagoda" is usually the popular name of the temple.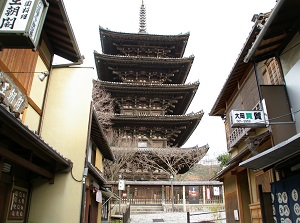 East side of Yasaka Pagoda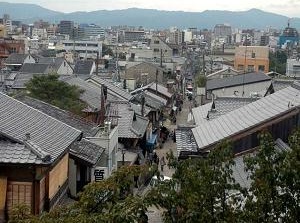 View from Yasaka Pagoda
The pagoda is 46 meters tall, and is the third highest wooden building in Kyoto after Toji and Kofukuji.
It is the landmark around this area.
The pagoda is opened to the public, but the open dates aren't fixed.
There are some Buddha statues in the first floor.
And, we can go up to the second floor and have a view of the city of Kyoto through the windows.
How to get here
By route bus, from Kyoto station, about 17 minutes to Kiyomizumichi stop.
Then about 5 minutes from each bus stop.
Hotels around Kiyomizu-dera
Other Tourist Attractions in Kyoto Prefecture