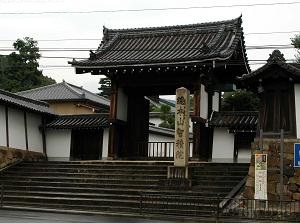 Main gate of Chishaku-in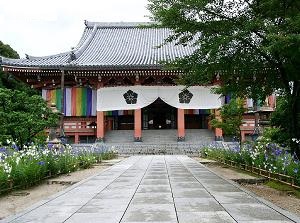 Kondo of Chishaku-in
Chishaku-in is a Buddhist temple located about 1.8 km east of Kyoto station.
The west side faces Higashi-oji Street, and it is at the east end of Shichijo Street.
There are Sanjusangen-do and Kyoto National Museum near this temple.
The sect of this temple is one of Shingon Buddhism, a major school of Japanese Buddhism.
This temple was founded in 1598.
In this precincts, there are some buildings such as Kondo, Myooden, Koudo, Daishoin, etc.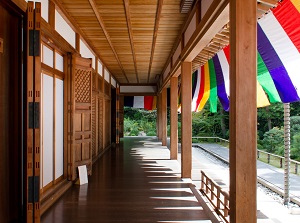 Inside of Chishaku-in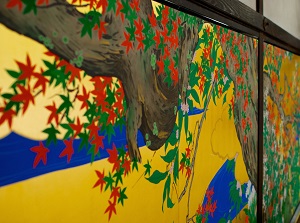 A painting by Hasegawa Tohaku
Koudo hall was rebuilt in 1995.
Near Koudo, there is a Japanese garden in the image of sacred mountain and river in China.
You should see the wall paintings by Hasegawa Tohaku (1539-1610) and his son Hasegawa Kyuzo (1568-1593) in this temple.
Tohaku was one of the excellent painters in the period.
And, it was said that Kyuzo had grater talent than his father, but he died young unfortunately.
The paintings were created in the guest house around 1593.
It is said that some of them were the last works of Kyuzo.
In 1682, this temple were destroyed by fire, but the paintings were rescued from the fire fortunately.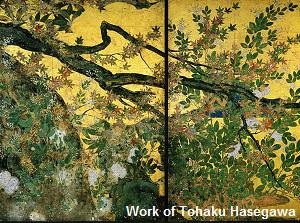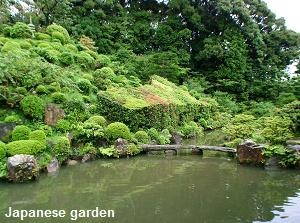 Now the paintings are exhibited in Shûzôko (Storage house).
They are designated as national treasures.
And the repricas of them are set up in the room of Daishoin.
How to get here
By route bus, About 10 minutes from Kyoto station to Higashiyama-Shichijo stop.
Hotels in Higashiyama area
Other Tourist Attractions in Kyoto Prefecture