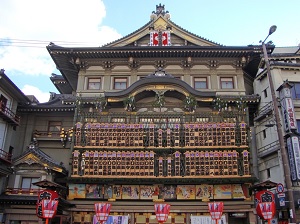 Minamiza with Maneki boards
Photo by Kyoto Free Photo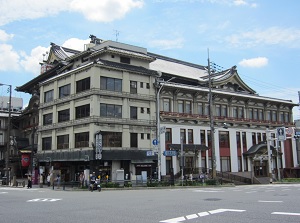 West side of Minamiza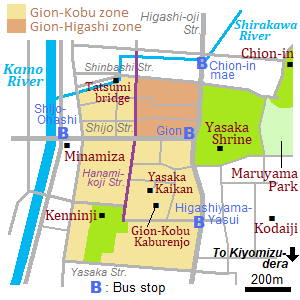 Minamiza is an old theater in Kyoto.
It is located at the south side of Shijo Street and near Kamo River.
The eastern district of the theater is Gion.
Basically, it is a Kabuki theater.
Kabuki performances held from last day in November to late December is a signature early winter event of Kyoto.
The performances are called Kaomise ("Showing all faces", in English).
All actors of a troupe appear on the stage.
And the names of all actors are written on the wooden boards individually, and all of them are displayed above the front gate.
(It is called "Maneki". The meaning is "inviting guests".)
During the other season, various dramas or comedies are held in this theater.
In 1603, Izumo-no-Okuni performed a drama in Kyoto.
She was a female attendant of Izumo Shrine, and had been traveling around Japan to raise money for the shrine.
Her performance gained much popularity, and it became Kabuki later.
After that, seven theaters for Kabuki were built around current Shijo Street around 1620.
One of them has been Minamiza, and "Minamiza" means "South Theater".
Literally, this theater is on the south side of Shijo Street.
By the late 19th century, six theaters of them had been discontinued.
Then only Minamiza is operating, even now.
The new building was rebuilt in 1929.
And it has been completely remodeled without changing the appearance in 1991.
How to get here
The nearest station is Gion-Shijo of Keihan Railway.
Or, 3 minutes walk from Kawaramachi terminal station of Hankyu Railway.
Hotels around Gion
Other Tourist Attractions in Kyoto Prefecture